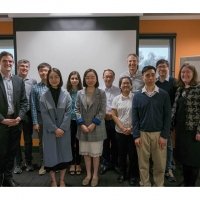 Wednesday, 7 November 2018
Seven students from the University of Western Australia's Master of Professional Engineering program are one step closer to inciting change in WA's adoption of electric mobility, recently presenting their policy brief, Transition Towards Electric Mobility in WA, to The Greens WA MLC, Mr Tim Clifford, and staffer Alison Wright, on 24 October.
The policy brief concept stemmed from a collaboration between project partners Dr. Thomas Braunl, Project Director of UWA's Renewable Energy Project Team 2018 (REV), and Murdoch University's Dr. Jonathan Whale, from the Energy Transition Hub project.
Dr Braunl and Dr Whale offered the concept to the UWA student group to form the basis of their ELEC5552 Electrical and Electronic Engineering Design Project Unit 2, volunteering to co-supervise the project alongside PhD Engineering student Kai Li Lim.
Engineering students William Lai, Jiajing Liang, Ying Luo, Amanda Quy, Zhijun Yin, Zhengyang Yu, discovered few policies in support of electric vehicle (EV) growth, and identified a significant lag in the uptake of EV technology in WA.
Having identified the proven environmental, economic and social benefits of electric mobility, including meeting the Australian Co2 emission target, increased employment opportunities and improved health of the general public, the student group provided a series of recommendations to the WA government within their policy brief.
"I think a transition to electric mobility will act as one way of advancing towards a lower-emissions future, in conjunction with the renewable energy resources (e.g. solar, wind, hydro) as the fuel source, electric mobility can achieve true zero emissions on the road," Mr Lai said.
"Leading car manufacturers such as Nissan and Renault are now offering electric vehicle models. Other countries around the world are demonstrating that government support can significantly accelerate EV uptake and are now able to take advantage of the benefits of EVs".
As the liaison between the unit teaching team and project partners, Mr Lim said the opportunity for the student team to prepare a policy brief and undergo the process of receiving feedback from industry experts and negotiating issues, "exposes the team to a professional engineering environment and readies them for their future prospects".
Recognising the crucial role Government plays in accelerating EV uptake through supporting policies and regulations, the student group arranged to meet with representatives of The Greens WA including Mr Tim Clifford MLC, to present their policy brief.
"It was an extremely invaluable opportunity not only for the students but for the rest of us who were involved, to see the whole project come full circle, and have the policy brief presented to an active lawmaker," Mr Lim said.
The policy brief received positive reception at the Greens WA meeting, to which Tim Clifford noted that it will "definitely help with their work to push for EV uptake in parliament when it commences," Mr Lim said.
"It was a great honour for the team to have Mr. Clifford come to UWA to hear about our project. We gained a lot more insight into the Greens party's plans for developing policies to support EV adoption," Mr Lai said.
UWA's School of Engineering Chair in Engineering Education, Dr Sally Male, highlighted the importance of collaborative learning opportunities, "to work on a policy brief and present it to Mr Tim Clifford MLC, receive his comments, and answer his questions was an excellent learning opportunity. The students contributed professionally to a real issue for WA and globally," Dr Male said.
Mr Lai has one more semester to complete before graduating from the UWA Master of Professional Engineering program and will "make great use of this project's experience to find a job that is related to EV after graduation," Mr Lai said.
Media references
Caitlin White (UWA Faculty of Engineering Mathematical Sciences) (+61 8) 6488 2260
Tags
Channels

Research — Students

Groups

Faculty of Engineering and Mathematical Sciences