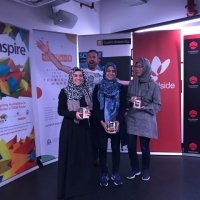 Wednesday, 7 November 2018
The Faculty of Engineering and Mathematical Sciences celebrates the success of USafe, a team of three UWA female engineering students who recently took part in the third annual NASA Space Apps Perth hackathon, on 20-21 October.

The USafe team received an honourable mention for most practical solution to the Don't Forget the Can Opener challenge in saving endangered communities. Acknowledgement of their efforts was presented by Shannon O'Rourke, Woodside Energy's Head of Commercialisation.

The NASA Space Apps Challenge is an international hackathon that occurs over 48 hours in cities around the globe, where students, technical experts, engineers, makers, designers and project managers unite to develop innovative solutions in response to 'mission critical' real-world problems posed by NASA Scientists.
The event promotes collaborative problem solving to produce open-source solutions to challenges using publically available NASA data. Successful participants are rewarded for their efforts with a range of prizes. The 2018 Perth hackathon saw seven teams pitch their solutions to NASA challenges to an audience and panel of judges. The challenge theme this year was Earth & Space.
UWA research students Areej Alsini, PhD Computer Science student, Sanabel Abu Jwade, Master of Professional Engineering in Software student, and Saima Safdar, PhD Mechanical Engineering student, took part in the Don't Forget the Can Opener challenge, to create an easy-to-use way for people to develop their own custom checklists for specific kinds of disasters through use of NASA images, videos or data visualisations to illustrate different disasters.
"We all worked collaboratively to develop the proposed solution with each of us providing input into the final presented solution. I prepared the presentation slides and pitched the solution, Areej developed a prototype for the solution and Saima conducted background research to understand the challenge and its magnitude," Ms Abu Jwade said.
The USafe team pitched their solution to a panel of judges at the close of the weekend's activities, the panel of five included: Games We Play Founder, Dr. Kate Raynes-Goldie, Woodside Energy's Head of Commercialisation, Shannon O'Rourke, Pawsey Supercoming Centre Research Data Specialist Lachlan Campbell, Convergio Founder and Chair of Australian Information Industry Association WA, Julian Coyne and Curtin University Research Ambassador for Space Science & Technology and Coordinator at Fireballs in the Sky, Renee Sayers.
"The hackathon was a great chance to use our knowledge to propose a solution to a real-world problem. It was full of thoughts, discussions, planning and fun. We also got to meet many technology entrepreneurs which was very inspiring", Ms Abu Jwade said.
Find out more about the NASA Space Apps Challenge 2018 here .
Media references
Caitlin White (UWA Faculty of Engineering Mathematical Sciences) (+61 8) 6488 2260
Tags
Channels

Awards and Prizes — Events — International — Science — Students

Groups

Faculty of Engineering and Mathematical Sciences