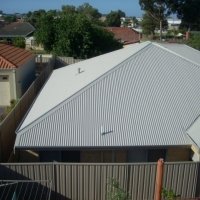 Wednesday, 7 November 2018
Researchers at The University of Western Australia are warning that Perth needs to limit urban sprawl but they argue lower-density infill development in suburban backyards is not the answer.
In a new report released today by UWA's Australian Urban Design Research Centre, author Dr Julian Bolleter says Perth is one of the lowest density and most car-dependent cities in the world.
"In response to its sprawling form, there have been repeated attempts by the State Government to deliver medium-density development in conjunction with public transport nodes but success has been limited," Dr Bolleter said.
"Indeed, much of Perth's infill development is being delivered through the subdivision of suburban backyards for low-density housing."
Dr Bolleter said the report indicated that to achieve significant medium-density development, from terrace housing to low-rise apartments (ie two to five storeys) in Perth, minimum site areas and densities needed to be set for infill development.
"Development changes should aim to reduce low-density infill in suburban backyards, which threatens urban forests and suburban character and in turn aggravates local communities," he said.
"Doing so will allow impetus to build over time around coordinated medium-density development, in appropriate forms and locations. Such medium-density housing with well-designed, high-amenity, community setting can provide increased housing choices and a healthier, more sustainable city.
"For this to happen, there needs to be greater consistency between local and state government and investigation into alternative construction technologies already being used elsewhere."
The report includes recommendations for alternative ways of building and designing medium-density to work with, rather than against, Perth's enduring suburban sensibility.
Dr Bolleter said the findings were important because if Perth failed to deliver coordinated medium-density development, it would continue to sprawl and densify in a manner that experts considered potentially inefficient, unhealthy, divisive and environmentally destructive.
"This has major implications for Perth's livability, if not viability, in the face of the challenges of the 21st century," he said.
Media references
Dr Julian Bolleter (Australian Urban Design Research Centre)       08 6318 6203 / 0422 101 756
David Stacey (UWA Media Manager)                                              08 6488 3229/ 0432 637 716
Tags
Channels

Media Statements — Research — University News

Groups

School of Design