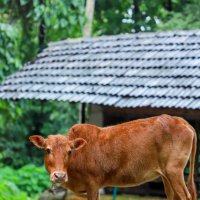 Tuesday, 30 October 2018
Dwarf cattle breeds are better adapted to high temperatures according to research published by an international team including researchers from The University of Western Australia. The findings are important for developing climate-ready cattle.
The study showed for the first time that dwarf breeds of cattle use different heat tolerance mechanisms than standard cattle breeds, making them better adapted to hotter climates.
Dr Muhammed Elayadeth-Meethal from Kerala Veterinary and Animal Sciences University, India who led the study, came to UWA in 2013, sponsored by The Crawford Fund, and trained in thermal physiology measurements under Professor Shane Maloney from UWA's School of Human Sciences and Institute of Agriculture.
He said the standard cattle breeds acclimatise to the warm environment through physiological, biochemical and molecular changes while the dwarf breeds have adapted through changes in their genes.
"Standard size cattle breeds can acclimatise in the short term to higher temperatures but reach their tolerance limit under prevailing tropical conditions, while the dwarf breeds are genetically adapted to the warmer climate," Dr Elayadeth-Meethal said.
Professor Maloney said the study highlights the importance of these locally adapted breeds as a reservoir of genetic variation, which can be used as candidate breeds to develop climate-ready cattle.
"There is an increasing trend of importing international breeds rather than relying on domestic breeds which may be smaller in size but are better suited to a tropical climate for example," Professor Maloney said.
"Tolerant breeds are preferred as it requires minimum diet and management modifications and thus causes less welfare and environmental issues compared to high yielding commercial breeds."
The research will open up new ways in assessing heat stress tolerance and breeding for sustainable livestock production especially under changing climate.
The paper, Size does matter: Parallel evolution of adaptive thermal tolerance and body size facilitates adaptation to climate change in domestic cattle was published in the journal Ecology and Evolution . The research formed part of Dr Elayadeth-Meethal's PhD studies and was supported by Crawford Funding Australia, and Rothamsted International Fellowship.
The collaborating institutions Kerala Veterinary and Animal Sciences University, University of Bristol, UWA and Rothamsted Research are all members of the Global Farm Platform initiative that attracts researchers from different communities and disciplines seeking to develop sustainable ruminant production globally.
Media references
Professor Shane Maloney (The UWA Institute of Agriculture and School of Human Sciences) (+61 8) 6488 3298
Diana Boykett (Communications Officer, The UWA Institute of Agriculture) (+61 8) 6488 3756 / (+61 4) 04 152 262
Tags
Channels

Research — Science

Groups

UWA Institute of Agriculture