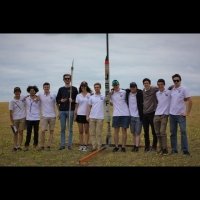 Monday, 29 October 2018
The Faculty of Engineering and Mathematical Sciences' newest student club, UWA Aerospace, has completed the final test launch of its custom-built rocket ahead of the inaugural Australian University Rocket Competition.
On 6 October, the engineering students watched with excitement as the rocket left the ground with a blast of smoke, soaring to a height of 2.8km and reaching a top speed of 1074 km/h, promising great results ahead for the competition finals.
The Australian University Rocket Competition is a nationwide contest hosted by the Australian Youth Aerospace Association that aims to provide students with a practical outlet to extend themselves beyond the lecture hall. The UWA team is the only team representing Western Australia, and will be judged on engineering reporting and design as well as final rocket performance.
Since its inception in April, the UWA Aerospace team has been hard at work perfecting their design. Their prototype, called Jeff, was custom built from scratch by UWAA members. After its first test launch in August, numerous upgrades were applied, including new 3D-printed avionics sled, upgraded structural components, and a new nose-cone.
"The latest test launch was mighty successful," said Anthony Poletto, third year engineering science student and Co-Project Manager. "The only mishap was that our parachute lines had tangled and prevented our main chute from deploying, leaving the rocket to land a little harder than anticipated."
The team has great plans for even further improvements ahead of the final launch, to be held in April 2019.
"Due to the fire bans, there won't be any more tests until the trial launches at the competition itself," lamented Anthony. "Our next step is to improve electronics and recovery systems. We will also upgrade our telemetry and communication systems so that we can transmit live-data during the flight."
Whatever improvements are ahead will have to wait, as the 15 student members are also working hard to prepare for their exams. The UWA Aerospace club has found plenty of talent among a multidisciplinary engineering cohort, drawing students from various majors to work on the rocket's body, electronics and recovery systems.
"Building rockets requires broad knowledge and experience," explained Anatalisha Finn, Avionics Lead, and third year engineering science and physics student. "Our team comprises electronic, software, and mechanical engineers, and includes members from first year through to Masters."
"It's an opportunity for students from all areas of engineering to collaborate and gain practical experience, and hopefully inspire a new generation of students that could establish a space ecosystem in WA," added Anthony. "With the announcement of the Australian Space Agency earlier this year, this is needed now more than ever. Aerospace is a rapidly growing and innovating sector that we shouldn't miss out on. It's a reason for young Australians to look up to the night sky again."
The final launch for the Australian University Rocket Competition will take place in April 2019. You can watch footage of a UWA Aerospace test launch here .

Media references
Tina Zhang (UWA Faculty of Engineering Mathematical Sciences) (+61 8) 6488 1733
Tags
Channels

Students

Groups

Faculty of Engineering and Mathematical Sciences