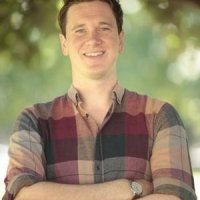 Monday, 29 October 2018
A sports scientist with a passion for improving the physical and mental health of people of all ages has been named Western Australia's Young Tall Poppy of the Year.

Dr Ben Jackson, a senior lecturer in exercise, health and sports psychology within UWA's School of Human Sciences, was announced as the winner at a ceremony held at WA Shipwrecks Museum in Fremantle on Friday night.

Dr Jackson's research projects include experimental and intervention-based work focused on psychological resilience, self-regulation, confidence, motivation, social support and interpersonal communication. He created the Psychology of Active, Healthy Living (PAHL) group in 2013, which recently launched a new community weight loss initiative for overweight men, Man v Fat.

Four of the five finalists in this year's awards were from UWA with astrophysicist Dr Luke Davies, agricultural engineer Dr Andrew Guzzomi and marine biologist Dr Verena Schoepf recognised for their outstanding achievements as young researchers in the sciences including technology, engineering, mathematics and medical research.

The Tall Poppy Science Awards are run by the Australian Institute of Policy and Science and recognise up-and-coming scientists who combine world-class research with a passionate commitment to communicating science. Many Young Tall Poppies go on to achieve even greater things and become inspiring leaders in their field.

Dr Davies is based at UWA's node of the International Centre for Radio Astronomy Research where his research focuses on the history of the universe; trying to understand how galaxies have evolved over the past eight billion years.

Dr Guzzomi is a research fellow in UWA's School of Engineering where he leads the University's agricultural engineering activities including devising innovative solutions to challenging global problems. His current research projects include research and development of a mechanical targeted tillage device for broad-acre cropping and research and development of native seed flaming technology and mechanisation techniques.

A research fellow in UWA's Oceans Institute, Dr Schoepf's research explores how reef-building corals are affected by climate and environmental change, with a special interest in Indian Ocean coral reefs and particularly "super corals" that are already adapted to naturally extreme environmental conditions expected under future climate change.

UWA Vice-Chancellor Professor Dawn Freshwater said the work being undertaken by the University's young scientists would make positive differences to the lives of many people.

"These innovative projects are among many that our University has undertaken that fulfil our aim to serve our community and improve the lives of people," Professor Freshwater said.
Media references
David Stacey (UWA Media and Public Relations Manager)        08 6488 3229 / 0432 637 716
Tags
Channels

Awards and Prizes — Media Statements — Research — Science — Sport — University News