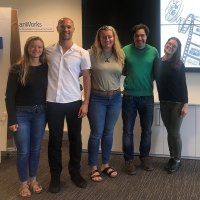 Friday, 26 October 2018
UWA PhD candidate, Samantha Andrzejaczek, was recently awarded First Place and the Audience Choice Award for her success in the OI – OGS PhD video competition held on Tuesday 23 October at UWA's Oceans Institute (OI). The competition, which aims to increase the impact and visibility of OI postgraduate research, presents PhD students with the opportunity to share their research efforts in a creative three minute video submission.
The competition, which that launched in July, is open to all Oceans Graduate School and Oceans Institute PhD students and is sponsored by OceanWorks.
Four PhD students, Camille Grimaldi, Samantha Andrzejaczek, Nery Neto and Fernando Perez took part in the competition for the chance to win one of the highly-sought-after cash prizes.
Participants were offered two free workshops, a creative storyboarding workshop and a one-on-one feedback session to build the skills required to produce a high quality video submission. Students were also provided access to the School's filming and editing equipment and information on the technical aspects of using editing software.
During the competition, each participant pitched their video submissions to a panel of judges; Educational Technologist from the Educational Enhancement Unit, Miela Kolomaznik, and Educational Futures Placement Officer, Samantha Andrews, before showcasing their final submissions to the eagerly awaiting audience.
Andrzejaczek who is in the fourth year of her PhD was awarded the $1000 First Place cash prize and $300 Audience Choice Award for her video The Secret Lives of Tiger Sharks.
The documentary-style video captures her research into tiger shark migration through tagging and how this may change in future. Tagged with an apparatus including a camera, compass and speedometer, Samantha was able to capture the tiger shark's movements across a 24-48 hour window providing a near 60 hours of raw footage per day.
"These awards are great recognition for my research efforts. I am thankful for the opportunity to present my project on an entirely new platform and capture, footage of the beautiful ocean and its marine life on the coast of Western Australia" Andrzejaczek said.
Second Place and a $500 cash prize was awarded to Camille Grimaldi with her Go with the Flow research piece into Western Australia's reef systems. Engineering students Nery Neto and Fernando Perez placed equal third and received $250 for their respective videos; Effect of Seagrass and Coral Reef Canopies on Sediment Transport Processes in Coastal Systems and Mr Energy.
"The OI-OGS PhD video competition is a valuable experience for PhD students that not only allows them to receive recognition and feedback for their research efforts and build an entirely new skill set in video production but also create a lasting video which can be used in their CV's for future employment" Andrzejaczek said.
MEDIA REFERENCES
Caitlin White (UWA Faculty of Engineering Mathematical Sciences) (+61 8) 6488 2260
Tags
Channels

Awards and Prizes — Events — Research — Students

Groups

Faculty of Engineering and Mathematical Sciences