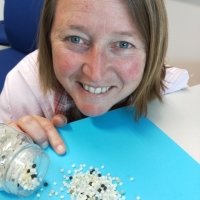 Friday, 26 October 2018
The University of Western Australia's Albany Campus is seeking volunteers to collect tiny plastic pellets, known as 'nurdles', which have washed up on the South Coast after a massive spill off the South African coast in October last year.

Project leader Dr Harriet Paterson from UWA Albany said 2.25 billion nurdles were spilt after a container fell from a ship during a storm in Durban harbour. Although a third of them have been cleaned up, the remainder is still floating around the world's oceans. Nurdles are tiny lentil-sized pellets and are the building blocks of all plastic products.

"Some have washed up on the tropical island of Saint Helena in the Atlantic Ocean and many more are headed our way," Dr Paterson said.

"In order to hold the polluters accountable we need to know how many 'Durban nurdles' are on our beaches and where they accumulate. The best way to do this is for a team of Citizen Scientists to collect samples from beaches they visit during the month of November."

Dr Paterson said while large numbers of nurdles could be found on many South Coast beaches, the 'Durban nurdles' were physically different to those that were typically found.

"We know how and when they were lost as well as who manufactured and shipped them, which gives us a unique opportunity to explore responsibility for spills across international boundaries," she said.

"We're hoping to recruit as many people as possible to help us collect nurdles during November.  Citizen scientists will collect all plastic fragments they find in a square metre from the strand line of any beach they visit.  Samples will be stored in envelopes and deposited at various locations along the south coast.

"Plastic in the environment is a huge concern, not only because it reduces the scenic value of our beaches but it is also dangerous to animals.  Plastic can cause starvation, entanglement and the chemicals in plastic may be harmful.  The added value of this project is it will remove plastic from our beaches.

"From the perspective of oceanography they tell us about ocean currents and connectivity with the South African coast but more importantly we will be contributing to the discussion about how the polluter pays and who they are."

To register your interest please visit www.cenrm.uwa.edu.au/research/social-cultural-environmental to complete the release form and email it to [email protected] .
Media references
Dr Harriet Paterson (UWA Albany Campus)                                          08 9842 0868 / 0401 588 846
David Stacey (UWA Media and Public Relations Manager)                    08 6488 3229 / 0432 637 716
Tags
Channels

Media Statements — Regional — Research — Science — University News

Groups

Centre of Excellence in Natural Resource Management — Great Southern — Regions — Science Matters — South Coastal — The Albany Centre