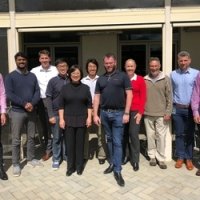 Wednesday, 24 October 2018
A new four-year $3.6 million research partnership between The University of Western Australia (UWA) and Rio Tinto Iron Ore will lead to improved efficiency in geological modelling, through innovative data science solutions.
Building on a collaboration that started in 2010, the new partnership, Data Fusion Projects, involves UWA's geodata algorithms team led by Professor Eun-Jung Holden and Dr Daniel Wedge working with Rio Tinto Iron Ore's team led by resource evaluation manager Thomas Green.
Mr Green said the challenge faced by Rio Tinto's resource evaluation group was to quickly and consistently interpret and integrate increasing volumes of different types of data collected.
"We were actively seeking automated solutions not to replace but to assist our interpretation to model geology and resource which can be inconsistent and uncertain," he said.
The partnership involves diverse topics including the development of machine-learning based methods and tools to integrate diverse drillhole data to model stratigraphy, their material compositions and geomechanical proxies for resource evaluation and mining.
The research also aims to incorporate advanced machine learning methods to improve certainty in modelling the spatial extent of subsurface geological interfaces. The team will develop image analysis and visualisation methods and tools to assist the interpretation of large volumes of 2D and 3D data from satellites and drones for planning and geological mapping.
Professor Holden, from UWA's School of Earth Sciences and geodata algorithms team, said the project provided an exciting opportunity for researchers and students to learn how the data was collected, used and interpreted within Rio Tinto and access their state-of-the-art data.
"Over the years, our UWA team and the Rio Tinto Iron Ore teams have built an integrated and supportive environment where innovative research and development and leading industry practice can meet and flourish. Our research team includes highly skilled data scientists who can develop data science solutions that are understandable and can be interpreted by geoscientists," she said.
UWA and Rio Tinto's successful past collaboration resulted in UWA's commercialisation of automated downhole image analysis software in 2015, which had a significant uptake by the mining and petroleum industries globally; and a RTIO driven joint patent application in 2017 on Automated Validation Assistant (AVA) for geological and mineralogical composition logging from rock samples from drill holes using machine learning.
Dr Wedge said the new partnership expanded the collaboration built over the past six years, and its scale provided the opportunity to build on previous projects and relationships.
"This includes drawing together vast datasets and working with enthusiastic Rio Tinto Iron Ore geoscientists," Dr Wedge said. "It allows us to not only see the bigger picture, but work on improving it."
Mr Green said the machine learning tools that the UWA team had developed, such as the AVA were in use within operations, saving time and improving consistency.
"The success we had with our initial work with the UWA team gave us confidence to extend the partnership. Together we'll be working towards a future of machine assisted geological modelling within Rio Tinto Iron Ore that will bring about great benefits."
Media references
David Stacey (UWA Media and Public Relations Manager)                  08 6488 3229 / 0432 637 716
Tags
Channels

Media Statements — University News

Groups

Business Briefing — Civil, Environmental and Mining Engineering