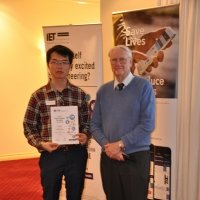 Wednesday, 24 October 2018
Engineering PhD Student Xiong Xiao has taken out first place at the Present Around The World (PATW) event hosted by the Institution of Engineering and Technology (IET).
Xiong Xiao's research is in fluid science and resources and he was awarded the audience's favourite for his presentation "Modelling Improvements in Viscosity Predictions for the Natural Gas Industry". Winning the award means Xiong will take part in the National Final in early 2019 with the winner going on to represent Australia in the Asia-Pacific final.
The competition is open to all young professionals and university students who are currently enrolled in STEM courses between the ages of 18 to 30. The competition encourages participants to develop and practice their public speaking and presentation skills by discussing their research or work in a 10 minute timeframe.
Xiong said, "This competition was a priceless opportunity for me, it allowed me to network with people from industry as well as other young professionals. I have also further developed my presentation skills, allowing me to detail my cutting-edge research in a simple and straight forward manner." He also thanked his research supervisors Professor Eric May, Dr Darren Rowland and Dr Saif Al Ghafri.
The IET is a global non-for-profit organisation from the UK. They are working to engineer a better world by inspiring, informing and influencing their members, engineers and technicians. It is one of the world's largest engineering institutions with over 168,000 members in 150 countries.
Media references
Ben Robson (UWA Faculty of Engineering Mathematical Sciences) (+61 8) 6488 7501
Tags
Channels

Awards and Prizes

Groups

Faculty of Engineering and Mathematical Sciences