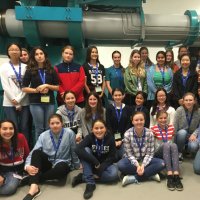 Thursday, 18 October 2018
The UWA Indian Ocean Marine Research Centre (IOMRC) recently hosted 30 students as part of the Future Engineers Program, a week-long event organised by the Women In Subsea Engineering (WISE) Network.
The WISE Network is made up of industry professionals passionate about achieving gender parity within subsea engineering, with the Future Engineers program offering young women a wide range of activities designed to connect them to industry and to illuminate what is really like to work offshore.
The students visited IOMRC on Tuesday 2 October, where they took an inspiring tour of the geotechnical centrifuge facility led by Dr Shiaohuey Chow and Nicole Fiumana. This was followed an interactive session hosted by Woodside OceanWorks where the girls were engrossed by research stories and career advice from researchers Dr Anna Cresswell (CSIRO), Dr Katherine Cure (Australian Institute of Marine Science) and Dr Ci Wang (UWA). They ended their visit by putting their communication skills to the test with a science communication  activity from the UWA Girls In Engineering outreach program.
"The centrifuge was impressive as it puts our local expertise into perspective," remarked Rodney Silberstein, Director of ARV Offshore. Rodney is also an industry volunteer with the Future Engineers Program. "We have the southern hemisphere's biggest centrifuge and the world's most difficult soils."
Mr Silberstein went on to reinforce the importance of bringing more girls into engineering. "It's important to draw more young women into engineering – if we had twice the talent pool to choose from, the results would be more than twice as good. Hearing successful stories from such a range of women engineers and scientists was a highlight."
Dr Katherine Cure, a leading fish ecologist, emphasized the importance of sharing personal journeys when it comes to inspiring the next generation. "I hope that sharing my career experience with the young women interested in science and engineering helped expand their view of the possibilities available to them as they get started in their own career."
The IOMRC is a leading marine science partnership in the Southern Hemisphere with the largest research capability in the Indian Ocean rim. The unique facilities drive global knowledge of the Indian Ocean marine environment and its sustainable management.
Find out more about the Women In Subsea Engineering network here
Media references
Tina Zhang (UWA Faculty of Engineering Mathematical Sciences) (+61 8) 6488 1733)
Tags
Channels

Events

Groups

Faculty of Engineering and Mathematical Sciences