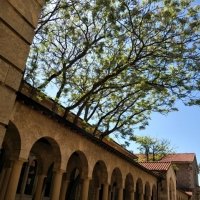 Tuesday, 16 October 2018
Two UWA professors were recently elected as Fellows to the Australian Academy of Health and Medical Sciences, in recognition of their outstanding contributions to the health and medical research landscape in Australia.
Professor Mariapia Degli-Esposti, Head of Division, Immunology and NHMRC Principal Research Fellow, and Professor Bruce Robinson AM from the Medical School were among 37 new Fellows, bringing the total Fellowship to 357. The elected Fellows represent a diverse range of fields from immunology and genomics, to biomechanics and biostatistics, through to physiotherapy, mental health and Indigenous health.
Professor Degli-Esposti has achieved international recognition as a viral immunologist with her research in the interactions between innate and adaptive immune responses being widely cited. The focus of her research has been to understand the regulation of complex immune responses, especially those elicited during chronic viral infection. Professor Mariapia Degli-Esposti heads the Experimental Immunology Group at UWA's Centre for Ophthalmology and Visual Sciences and was appointed Head of Research at the Lions Eye Institute in 2009.
Professor Bruce Robinson AM is co-leader of a large research team at the UWA Medical School studying cancer immunology and asbestos diseases. The Tumour Immunology Group has made many discoveries, including the first blood test for mesothelioma and has conducted many world-first treatments, including Australia's first cancer gene therapy trial. Professor Robinson is also the co-founder and director of the National Centre for Asbestos Related Diseases and co-founder and director of the International Skills and Training Institute in Health, a philanthropic organisation which provides services and training in disaster situations within the Asian region.
Tags
Channels

Awards and Prizes

Groups

UWA Forward