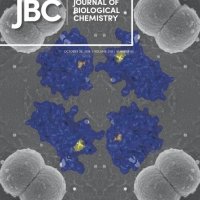 Tuesday, 16 October 2018
Congratulations to Assoc/Prof Charlene Kahler and Shakeel Mowlaboccus on the acceptance of their paper on the structure of DsbD in Neisseria by the Journal of Biological Chemistry. This work has been completed as part of an ongoing collaboration with Assoc/Prof Begona Heras at Royal Melbourne Institute of Technology and Assoc/Prof Martin Scanlon Monash Institute of Pharmaceutical Sciences in Melbourne.
The paper will be the cover illustration for the October 2018 issue.
Tags
Channels

Research

Groups

The Marshall Centre for Infectious Diseases Research and Training