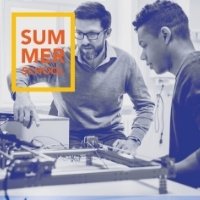 Tuesday, 16 October 2018
UWA Summer School is back for the next summer season.

Running from late November 2018 through to early February 2019, Summer School will offer students and the wider community an exciting range of units to choose from over the summer break.

Designed to increase flexibility in learning, Summer School is taught in intensive teaching periods of four to six weeks. There will be nearly 60 units on offer, following last year's popular program that had almost 1400 enrolments.

For our existing students, Summer School will be a great opportunity to accelerate learning, catch up on units and benefit from an intensive program while gaining credit towards their degree.

Summer School will be particularly beneficial to students from other Australian institutions who might be looking to undertake units that are not offered at their university. The summer offering will also be available to the general community and professionals wanting to upskill.

With a broad range of units, it is expected that Summer School will also appeal to 'life-long learners' who want to join the UWA community and learn something new.

UWA Professor Graham Brown, Dean of Coursework Studies (Acting), said the success of last year's inaugural UWA Summer School proved that students value flexibility.

"Students value the option to fast-track their degree, make up a unit they previously failed without affecting the overall duration of their degree or spread their workload across an additional teaching period.

"Summer School units cover a range of engaging topics across various disciplines and embed practical application and experiential learning.

"There is something for everyone, so we encourage our students and the wider community to explore the diverse range of units on offer," Professor Brown said.

Enrolments for the 2018/19 Summer School open on 12 November 2018. For a full list of units, including prerequisite requirements, costs and how to enrol/apply, visit the new Summer School website .
A smaller iteration of Summer School will also be available in the Great Southern at the UWA Albany campus where students will be able to take up field-based units over the summer season. More information is available here .
Tags
Channels

Teaching and Learning

Groups

UWA Forward