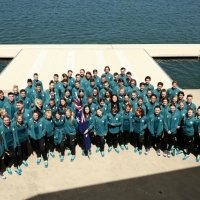 Monday, 15 October 2018
UWA Student Athletes Ashton Brinkworth and Christian Starkie both competed in the Youth Olympic Games held in Buenos Aires, Argentina from 6-18 October 2018.
Brinkworth had mixed results in his events, coming 12th overall in the 50m Freestyle heats in a field of 54 competitors, before placing 12th again in the Semifinals, narrowly missing out on the finals by a mere 0.17 seconds.
In the 100m Freestyle, Brinkworth finished 14th overall in the heats, before coming 12th in the semifinals and again barely missing out on the finals by 0.24 seconds.
Ashton was also a member of the 4x100 Freestyle relay team, who finished their race in 5th place.
Speaking on his experience at the Youth Olympic Games, Brinkworth said, "This is the fifth big meet of the year so it's been a long ride, but I was generally happy about my racing
"What I took away from the Games wasn't so much the results, but the experience and having fun as a team and getting up for relays, so I really enjoyed it from that perspective.
"Right now I'm coming from a junior to hopefully move up onto a senior team. Obviously as you get older it gets harder to PB, you can't go into every meet and expect to PB, so I think I've gained a lot of experience emotionally this meet in learning how to get up and race multiple times and put in a good swim for the team."
Starkie represented Australia as a goalkeeper for the Hockey 5s team, who produced impressive results at the games.
The Australians triumphed against Kenya in their first game of the preliminary round, with a final score of 7-0.
The second game against Bangladesh proved to be a closer match, however the Australians prevailed, 4-3. They then faced the Canadian team, who were also defeated by 3 goals, 6-3.
This victory qualified the Australian team for the quarter finals, however two more games of the preliminary round remained. Australia again dominated these games, winning 4-3 against India, before defeating Austria 2-0.
In the Quarterfinals, Australia faced Zambia in a close match, losing by 2 goals for a score of 4-6 and bringing an end to the team's amazing winning streak.
The Australians then moved to classification playoffs to determine their final standing in the competition. The first 5-8 classification match against Austria was a clear win, with a score of 8-3 to the Australians, before being defeated in a shootout by Poland in the 5-6 classification match on Sunday, following a final score of 4-4.
UWA Athletics Club member Sophie White also competed in the games, claiming silver in the 100m hurdles. After placing second in the heats on Thursday, the 16-year-old then placed third in the second heat, running a PB of 13.01 seconds to claim silver overall.
UWA Sport General Manager Ian Fitzpatrick also travelled to Argentina for the Youth Olympic Games as a team manager. Speaking on his appointment Ian said, "I was never good enough at any sport to be able to be paid for it. But I knew I wanted a career in it, however I also knew I wanted it to be varied.
"I'm lucky, because that's exactly what I have now. Having these opportunities… are great because they allow me to help the next wave of administrators and students on and off the field."
Media references
Gabrielle Morri
UWA Sport Graduate Officer - Marketing, Communication and Events
6488 3768
Tags
Channels

Sport

Groups

UWA Sport