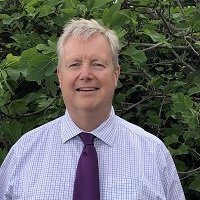 Monday, 15 October 2018
Nigel Waugh is refreshingly personable when he talks about his work and vision for creating the best culture possible for people in the workplace.
UWA's newly appointed Human Resources Director has an ability to make people feel at ease and practises what he preaches.
"I'm very much a believer of creating a culture that enables people to thrive and grow.
"We come to work for many years and we owe it to ourselves to make it as supportive and rewarding as possible. Human Resources is not here to police others, we are here to support people to do their best and help them get where they want to be," he says.
Recently returning to Australia from the United Kingdom, where he most recently held the position of Director of Human Resources at the University of Birmingham, Nigel says his colleagues welcomed his informal and straightforward approach.
"HR can be quite a complex field especially in the UK. My approach was, and remains, to pursue the simplest possible way of doing things. It's generally the best way to get things done."
Nigel's HR expertise spans far and wide. Raised in Tasmania, he completed a degree in history at the University of Sydney. Soon after he started working in the Australian Public Service and held senior positions in HR in a number of Commonwealth departments and agencies.
By 2000, Nigel made the move to higher education and was subsequently appointed as Human Resources Director at The University of Melbourne, and he has never looked back.
Nigel moved to the UK to take up an appointment as Executive Director of HR at University College London in 2011 and his time in London was invaluable, taking him around the world and opening doors at other universities in the United States and Europe.
"Working in universities brings you into contact with very bright and talented people, which is stimulating and challenging in equal measure.
"To experience first-hand the way universities work around the world has been a career highlight for me. I've been able to compare and contrast how they get the most out of their people," Nigel says.
He says he is thrilled to be at UWA where he looks forward to focussing and integrating his knowledge into an already high performing university.
"UWA already sets the standard for other Western Australian universities to follow. It's a leading institution, and the challenges we face are all areas that I look forward to bringing my experience."
Even after 25 years in HR, Nigel says that he finds every day brings new and different challenges.
"I've been privileged to work with, and for, some great leaders.
"They've taught me that the best leaders are humble, but are driven to do what's best for the organisation they lead."
And when Nigel isn't working through challenges at work?
"Much to the chagrin of my English colleagues who loved to rib me about the trials and tribulations of the Australian cricket team, I have absolutely no interest in sports. I'd much rather see a good band and love late 70s and early 80s post punk pop.
"I've also been known to spend entire afternoons in second-hand record stores (remember them?) hunting down forgotten gems!"
Tags
Groups

UWA Forward