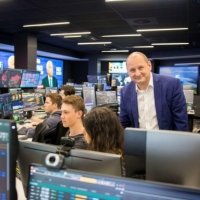 Tuesday, 9 October 2018
The University of Western Australia's Rosemarie Nathanson Financial Markets Trading Room has won Education Project of the Year at the annual international AV Awards in London.
The AV Awards recognise and reward excellence across the worldwide audio visual industry and are open to all organisations involved in AV around the globe. UWA's entry was one of more than 700 competing projects from 82 countries.
The Rosemarie Nathanson Financial Markets Trading Room opened in the UWA Business School in August 2017. It enables students to access more than 400 global markets and over four million gigabytes of historical market data from exchanges such as the ASX, NYSE, LSE and the CME, and covers more than 35 million financial instruments from stocks, bonds, currencies, commodities and derivatives.
It features 50 financial terminals, 160 monitors and has access to markets, newsfeeds and even tweets in order to demonstrate and explore how they interact and impact prices.
Professor Andrew Caminschi, Director of the Rosemarie Nathanson Financial Markets Trading Room, said the significance of the award was illustrated by the calibre of the entries.
"Our trading room beat entries from UCLA's Hass Business School and the Qatar National Library to take out the award. We are so proud to offer such a truly world-class facility to students at the UWA Business School.
"To share the stage with other category winners, such as Bloomberg, Adobe and Westfield, illustrates the global pedigree we are in."
Mark Barnaba, Chairman of the Advisory Board at the UWA Business School said it was pleasing to have world-class business education infrastructure at UWA recognised through such a prestigious global award.
The Rosemarie Nathanson Financial Markets Trading Room was made possible with donations from UWA Business School graduate and UK Ambassadorial Council Member, Hilton Nathanson and the Rosemarie Nathanson Charitable Trust, BHP, John Poynton, Adrian and Michela Fini and the UWA Alumni Donor fund.
Media references
David Stacey (UWA Media Manager) 08 6488 3229 / 0432 637 716
Tags
Channels

Awards and Prizes — Students — Teaching and Learning — University News

Groups

Faculty of Arts, Business, Law and Education