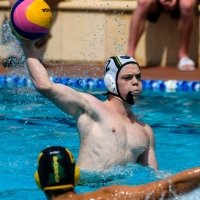 Tuesday, 9 October 2018
In front of hundreds of spectators West Australia's UWA City Bear Bears have won the 2018 16&U Boys National Aged Club Championships in a thrilling 4-3 victory over Brisbane Barracudas.
Using the home crowd to their advantage UWA overcame a nervous start and slowly worked their way into the match.
Goals were hard to come by and a successful 5m penalty converted by Brisbane Barracudas late in the second term put them one goal up with halftime nearing.
UWA fought hard and levelled scores 2-2, replying with a goal of their own moments before the main break.
An arm wrestle for scoreboard dominance developed in the third quarter, leaving the match delicately balanced to go either way.
With just under three minutes remaining in the game UWA took the lead 3-2 after a deflection off a Barracudas defender found the back of the net.
The Queensland team set up a grandstand finish when a Marcus Berehulak's rocket locked the scores back up on 3-3 with two minutes on the clock.
UWA City Beach Bear Julian Kyriakou finished off a pull down shot on the right post to send the home crowd into a frenzy and his team into the lead with under one minute of regular time.
In the end the West Australian side did enough to hold on and announce themselves as the best 16&U Boys national team in Australia.
UWA Co-captain Charlie Lennon was ecstatic with the result his team achieved.
"It's a great feeling, we worked so hard for this over the past six months.
"We trust our training and it definitely came through in the end, all props to them (Barracudas) for a great game.
"We must give a big thanks to our coach and to everyone who helped us," he said.
Brisbane Barracudas player Will Valentine said while it was a disappointing result for the team they are still extremely proud of their result.
"We stayed in it the whole game and in extra man at the end they scored a goal so it was unlucky for our defence. But we did very well to get here, we were one of the only Queensland teams to make the final.
"It was a real team effort by the coaches and the boys," said Valentine.
Next stop for the teams will be to challenge UWA City Beach Bears' title at the inaugural Australian Youth Water Polo Championships (AYWPC) to be held in Brisbane, Queensland during January 2019.
Media references
Originally published at Water Polo Australia
Gabrielle Morri
UWA Sport Graduate Officer - Marketing, Communication and Events
6488 3768
Tags
Channels

Sport

Groups

UWA Sport