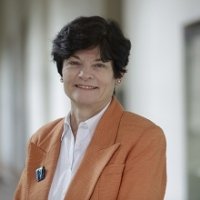 Tuesday, 9 October 2018
Australia's Population Health Research Network (PHRN) was established in 2009 and Chief Executive Dr Merran Smith will be the first to attest that it's very fitting UWA is the lead agency.
With a long history in linking data, WA is at the forefront of this field, and this was reinforced when Dr Smith was recently named as incoming Director of the International Population Data Linkage Network.
"As a State, WA has been linking data since the 70s, and systematically since the 90s. We're a leader in this field and the PHRN was established to build nationwide infrastructure to ensure population health research can be carried out more effectively.
"The creation and roll out of robust and reliable data linkage infrastructure is essential to ensure the data is managed securely and safely, and it is this infrastructure that enables essential population health research.
"Put simply, data linkage is a way to collate information about people, places and events, and make it available for research purposes," Dr Smith says.
There is a huge amount of research done using this linked data and Dr Smith says its positive impact on society cannot be underestimated.
"A wonderful example of this is research undertaken by Professors Fiona Stanley and Carol Bower into the key role of dietary folate in reducing the number of babies born with birth defects.
"The research conducted using linked data helped to show that adequate folate levels before and during pregnancy resulted in lower rates of birth defects.
"We all know how much of an impact this has had on society," Dr Smith says.
The benefits of using linked data in research are becoming more widely understood, and the biggest challenge now is simplifying the process of accessing the data so more research can be enabled.
"We currently don't have a standardised method across the Australian jurisdictions. This means in some instances there can be lengthy approval times for research projects that require complex data sets.
"To make the most impact on health outcomes nationally and internationally, it is imperative that linked data can be quickly and easily accessed for research projects.
"That's certainly not to say we will take short cuts. The sensitive nature of this data means we must always manage it securely, and we are continually developing processes to ensure the highest level of data protection," Dr Smith says.
Dr Smith said that she was looking forward to taking on the role of Director of the International Population Data Linkage Network and helping to progress the great work being done on the international stage.
"Wonderful progress has been made over the past two years with growing the international membership, however there are still gaps in the Network.
"In the Asia/Pacific especially, and some parts of Europe too, there's an opportunity to further increase membership and expand the amount of robust international data accessible to researchers.
"More data means more research which is crucial to the ongoing improvement of health outcomes across Australia and the world," Dr Smith says.
Tags
Groups

UWA Forward