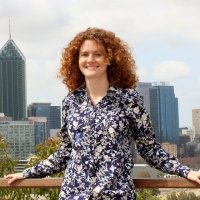 Monday, 8 October 2018
Faculty of Engineering and Mathematical Sciences student Michaela Taylor-Williams has been named the 2018 Global Winner in Engineering in the Undergraduate Awards.
The Undergraduate Awards are the world's leading undergraduate awards program which recognises top undergraduate work and shares this with a global audience to connect students across cultures and disciplines The initiative includes the top twenty universities in Britain, USA and Canada and accepts submissions from students in any Institution of Higher Education in the world.
Michaela completed her Honours degree in Engineering with First Class Honours with a specific interest in biomedical imaging, with a hope that her work will lead to long-term health benefits for everyone at dramatically reduced costs. Her winning paper was titled "Hollow core Photonic Crystal Fibre based Needle Probes for Raman Spectroscopy of Biological Tissue".
Professor David Sampson, Michaela's Honours supervisor and head of the Optical+Biomedical Engineering Laboratory at UWA said "Michaela's achievement reflects a great young intellect, who has huge enthusiasm and energy. She received excellent support, especially from PhD student Gavrielle Untracht, and is lucky to be studying at UWA where there is a rich research ecosystem".
As a Global Winner Michaela will receive a fully funded trip to attend the Undergraduate Awards Global Summit as well as, a Gold Medal and Certificate of Recognition. Her paper will also be published on The Undergraduate Library and a profile of her work published in the Undergraduate Journal.
Professor Roberto Togneri, Head of the Department of Electrical, Electronic and Computer Engineering said "It's fantastic to see our student's work recognised on the global stage, continuing the strong tradition of real-world outcomes from our Optical+Biomedical Engineering Laboratory and another example of the world class biomedical engineering research undertaken at UWA. Undoubtedly, Michaela has laid great foundations for a bright future."
Media references
Ben Robson (UWA Faculty of Engineering Mathematical Sciences) (+61 8) 6488 7501
Tags
Channels

Awards and Prizes — International — Students

Groups

Faculty of Engineering and Mathematical Sciences