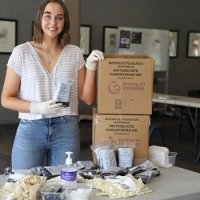 Thursday, 4 October 2018
More than 500 students studying Human Reproductive Biology and Issues in Women's Health at The University of Western Australia have assembled 2000 birthing kits for women who do not have access to the facilities needed for a clean and safe child birth.
The birthing kits will be sent to East Africa and South Asia regions by the Birthing Kit Foundation.
More than 300,000 women die every year in childbirth from infections that can be prevented.
UWA Bachelor of Science student Megan Dodd, who is passionate about philanthropy and improving global health, drove the fundraising initiative that raised more than $7000 to purchase the birthing kits, and said it was made possible by the generosity of the Perth community.
"It was wonderful to be involved in an initiative that supports women in Africa and Asia that do not have access to facilities needed for a safe childbirth," she said.
"We're very privileged in Australia with our health system, but not everyone is as fortunate. It's taken a lot of work but more than 500 UWA students got involved in assembling the birthing kits and it's wonderful the Perth community got behind us to make it possible."
The birthing kits provide the essentials needed for a clean birth including a sheet of plastic, soap, gloves, cords, gauze and a sterile scalpel blade all in a small press seal plastic bag.
Media references
Jess Reid (Media and PR Advisor) 08 6488 6876
Tags
Channels

Media Statements — Students — University News