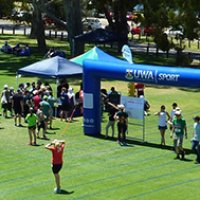 Wednesday, 3 October 2018
Tickets are now available for Staff Sports Day on Friday 23 November.
Join colleagues and friends for an afternoon of fun-filled activity beginning with a 5km campus run or 3km campus walk, followed by team and social sports.
Tickets are $10 and include all sporting events, a lunch pack and complimentary Club Café drinks voucher.
Social activities on the day will include bocce as well as giant chess, Connect 4 and Jenga. Team sport competitions will include volleyball (mixed, six-a-side), soccer (mixed, five-a-side) and dodgeball (mixed, six-a-side).
The schedule for the day is as follows:
12pm – Opening Ceremony
12.15pm – Warm up
12.30pm – Run / walk
1.30pm – Lunch
2.00pm – Social activities or team sport competition
3.45pm – Novelty games
4.15pm – Awards ceremony
4.30 – Day concludes
Representatives from each faculty / department will be in touch soon with further details.
Tickets are available online . To book:
1.       Enter the number of tickets. Click Best available
2.       Click Continue
3.       Select Print at home tickets and click Continue
4.       For each ticket complete the questions, then click Submit
5.       Complete the payment page. Click Finalise Order
You will a receive receipt email and an email with the ticket(s) attached. For ticketing assistance, email [email protected] or call 6488 2440 between noon and 4pm on weekdays.
Tags
Groups

UWA Forward