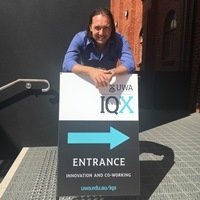 Tuesday, 2 October 2018
The Convocation of UWA Graduates has recognised and awarded two UWA graduates for their entrepreneurial contributions to international innovation.
The winners of the Convocation IQX Fellowship 2018, each valued at $1000, will have a chance to hot desk alongside industry innovators for six months in our newest coworking space at UWA IQX.
Congratulations to the award recipients –Dr Rafael Medeiros de Souza and Fiona Bettesworth, both working on projects that will benefit Australians and our international partners.
Rafael graduated this year with a PhD entitled, 'Quantitative Analysis of 4D Seismic and Production Data for Saturation Estimation and Fluid-flow Model Assessment.'
In December 2017 he established a company, Georaf Australia, which provides geoscience and engineering solutions for Australian businesses.  The company develops software solutions for the Oil and Gas and Precision Agriculture sectors.
His company is working towards establishing joint ventures with other startups in Brazil, and is currently outlining contractual agreements to integrate his expertise on global projects, while offering services to the Australian and Brazilian industry.
A graduate of 2014, Fiona is passionate about building the bilateral relationship between Australia and Indonesia through tourism. She is establishing a social-entrepreneurial tourism venture, ' Real Indonesia ' that connects curious, conscious travellers to authentic travel experiences beyond the tourist strips of Bali.
Convocation contributed $100,000 to the restoration of UWA IQX , formerly Nedlands Park Masonic Hall,  and are delighted to offer UWA graduates the opportunity to supercharge their enterprises through collaboration with UWA researchers and students.
UWA IQX is powered by the UWA Innovation Quarter and Business Foundations and if you are looking for an event  space then you can book a tour here
More information contact UWA IQX space curator Zoe Vos at [email protected]
Tags
Groups

UWA Forward