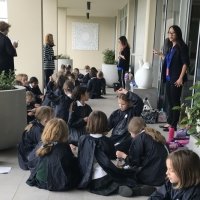 Thursday, 27 September 2018
The UWA Girls in Engineering outreach program (GIE) recently visited Presbyterian Ladies' College to deliver hands-on problem-solving activities to Year 3 students, the youngest cohort to be involved with the program to date.
The GIE program aims to demystify what engineering means, encourage girls to engage with Science, Technology, Engineering & Mathematics (STEM) subjects, and provide strong female role models in the form of student and industry volunteers.
The program ordinarily focuses on secondary students, with this primary school visit representing a new venture to address influences that begin in the first year of school such as stereotyping and decreased confidence with STEM subjects, which can lead to significant drop-off in uptake of STEM subjects in high school and beyond

Madeline Hermawan (Outreach Coordinator) and Tina Zhang (Outreach Officer) were joined by Kal-Kidan Meshesha, a first year engineering student, to deliver an interactive session as part of the Year 3 STEM Morning at the new PLC Lighthouse on 13th September 2018.
Thirty enthusiastic young students explored their own interests to discover which type of engineering would suit them, before looking at how engineers work to make our world a better place.
They learned about biomimicry, drawing inspiration from nature to devise solutions to problems.  After experimenting with the properties of water and oil by making their own lava lamps, the students finished the day by proposing their own innovations using water-repelling hydrophobic surfaces that were inspired by the lotus leaf. From waterproofing shelters in tropical countries to collecting rainwater in drought-devastated regions, the students were eager to apply their learning to solve global problems.
This event is a culmination of a year-long collaboration between the GIE program and Michelle Clayton (Gifted and Talented Coordinator, PLC Primary) to develop activities that would suit the interests and abilities of primary school students, with a focus on fostering creativity, innovation and individuality.
"It's about inspiring the next generation of female engineers by providing exciting opportunities so girls realise the breadth and depth of STEM," Michelle Clayton explained.
"It really surprised many of the girls who only thought engineers built roads and buildings. The activities opened their eyes and highlighted how engineers touch our lives in several ways every day."
Tina Zhang, Outreach Officer who recently joined the Girls in Engineering program, highlighted the importance of influencing girls at an early age. "Perceptions around gender roles and career choices emerge early in childhood," she said. "It is important to reach young girls in this formative time and show them that they belong in whatever field they choose."
"This event was an absolute joy to be a part of," Madeline Hermawan remarked, "We're looking forward to a continued partnership with PLC to ensure that the passion and energy for STEM in the classroom is maintained throughout their education."
The GIE program has reached almost 5000 girls and boys since 2014 and is proudly supported by Rio Tinto, Monadelphous, and Fluor.
Media references
Tina Zhang (Girls in Engineering Program - UWA Faculty of Engineering Mathematical Sciences) (+61 8) 6488 1733)
Tags
Channels

Events — Students

Groups

Faculty of Engineering and Mathematical Sciences