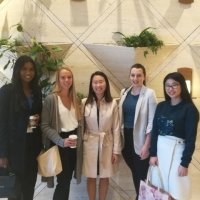 Thursday, 27 September 2018
Five of The University of Western Australia's brightest female engineering students recently took part in the 10th annual WIMWA Summit, a one-day-seminar and professional networking event which aims to encourage women to increase their presence in the industry and form strong professional networks.
From humble beginnings, Women in Mining Western Australia (WIMWA) has set out to inspire the industry to attract and retain women in the resources sector.
The 10th anniversary of the Summit held on Friday 14 September was hosted by award-winning journalist and author Leigh Sales and political commentator, journalist and TV host Annabel Crabb, and featured a series of presentations and panel discussions from a diverse group of industry leaders.
Headlining the discussion sessions was award-winning British science journalist and engineer, Angela Saini, business leader and member of the UWA Business School Board, Diane Smith-Gander, and WIMWA favourite Professor Bob Wood.
Engineering students Elana Mulvay, Josephine Liantano, Olivia Bardzovski, Ravishi De Zoysa and Lucy Yang, who attended the Summit, are a select few of UWA's enthusiastic young female engineers engaged in a range of UWA volunteering initiatives including Girls in Engineering (GIE).
Third year student and GIE Program Ambassador Elana Mulvey spoke highly of the event, "It was a fantastic experience and probably one of the most valuable things I've ever done. It was inspiring and showed me where I want to head," Ms Mulvey said.
The students that attended were also executives from Robogals and Women in Engineering and Mathematical Sciences, both are UWA student-run organisations that aim to encourage the uptake of STEM courses by females and maintain supportive collegial environments for students in tertiary education.
UWA's School of Engineering Chair in Engineering Education, Dr Sally Male, highlighted the importance of collaborative learning and student support, "The UWA Faculty of Engineering and Mathematical Sciences has strong relationships with industry-based professional women's groups."
"Staff and students appreciate the opportunity to be part of communities leading important initiatives to understand and improve inclusion and diversity in the workplace. We learn from each other and lead change together," Dr Male said.
Tina Zhang, UWA GIE Outreach Officer, praised panellists for their candid approach to describing the trials and tribulations in the sector, "It was wonderful to see female leaders in the mining sector and beyond candidly sharing their professional and personal journeys, their advice and their cautions. Their message to the next generation of young, talented women was clear - do what inspires you, pursue your passions in work and in life."
Find out more about the WIMWA Summit 2018 here
Media references
Caitlin White (UWA Faculty of Engineering Mathematical Sciences) (+61 8) 6488 2260)
Tags
Channels

Business and Industry — Events — Students

Groups

Faculty of Engineering and Mathematical Sciences