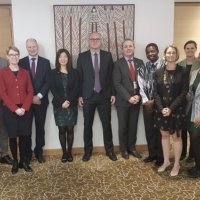 Tuesday, 4 September 2018
UWA's Africa Research & Engagement Centre (AfREC) has hit the ground running after last week's launch. A number of ambassadors, high commissioners and vice-chancellors were at the AfREC launch and have already pursued direct engagement with the Centre.
Interim Director, Dr David Mickler from UWA's School of Social Sciences, said discussions have already begun around how the Centre can help with briefings, training and other advice to assist diplomatic staff in Africa and policy makers in Canberra. The Centre recently co-hosted a delegation of visiting African journalists in partnership with the Department of Foreign Affairs and Trade.
"I'm really pleased at the level of enthusiasm that the launch generated in Perth, Canberra and Africa, where there was some media coverage .
"Australia needs mechanisms to deepen partnerships with African academics and universities as well as to provide practical policy advice to the Australian government on Australia-Africa relations – AfREC, working with key partners, provides this platform.
"A great example of this is Prof. Stephen Smith, AfREC member and Chair of UWA Public Policy Institute, leading a panel on 'Investment Opportunities Beyond Mining in Africa' as part of Australia-Africa Week's Women In Leadership Forum. Two AfREC Postgraduate Fellows, Seth Appiah-Mensah and Muhammad Dan Suleiman, also spoke on a panel examining the drivers of conflict and their impacts on mining activities in the Sahel region. UWA is now positioned as a leading hub for Australia-Africa collaboration and we're looking forward to what's ahead," Dr Mickler said.
For more information visit AfREC's website .
Tags
Groups

UWA Forward