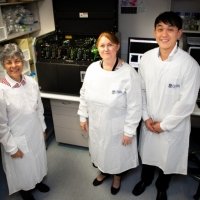 Thursday, 30 August 2018
A medical research team from The University of Western Australia has won the Eureka Prize for Innovative Use of Technology.
The Australian Museum Eureka Prizes are Australia's leading science awards, rewarding excellence in the fields of research and innovation, leadership, science engagement and school science.
UWA researchers Professor Wendy Erber, Dr Kathryn Fuller and Henry Hui were presented with the Eureka Prize for Innovative Use of Technology for developing an automated method for rapid leukaemia detection.

UWA Vice-Chancellor Professor Dawn Freshwater said the Eureka Prize recognised UWA research that had a real impact on the lives of patients.

"This new method is able to detect just one leukaemia cell in 10,000 normal cells, which is a huge step in the ability to pick up the presence of leukaemia earlier," Professor Freshwater said.

The method they have developed, named Immuno-flowFISH, enables the chromosomes and the whole leukaemia cell to be seen using a microscope built into the instrument used for this test. More than 20,000 cells can be studied in one test, a vast improvement on current methods which only assess a few hundred cells and are much slower.

The name was derived to acknowledge that three tests have been incorporated into one: 'immuno' recognises that immunology testing is used to identify the leukaemia cells, 'flow' because the machine is an 'imaging flow cytometer', and 'FISH' is the name of the test that identified the chromosomes inside the cells.

The team has developed and applied the immuno-flowFISH method to study chronic lymphocytic leukaemia, the most common type of leukaemia in Australia and which affects three per cent of people over 60 years of age.

The fast, accurate and sensitive automated method can detect just one leukaemia cell in 10,000 normal cells, a major advance that will lead to personalised treatments and better patient care.

Professor Wendy Erber, who is also the Executive Dean of Health and Medical Sciences at UWA, said the breakthrough would significantly improve the ability to identify genetic changes in cancer cells that will impact treatment.

Professor Erber and her research team are now expanding the test so that it can be applied to other types of leukaemia and cancers.

"I congratulate Professor Erber, Dr Fuller and Henry Hui on winning a Eureka prize, and I look forward to finding out what other applications their device might have," Professor Freshwater said.
Media references
David Stacey (UWA Media Manager) 08 6488 3229 / 0432 637 716
Tags
Channels

Media Statements — Research — Science — University News

Groups

Faculty of Health and Medical Sciences