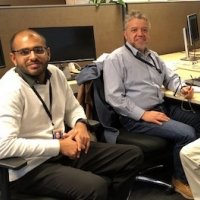 Thursday, 9 August 2018
Computer scientist Professor Mohammed Bennamoun from UWA's School of Computer Science and Software Engineering is a self-professed gardening lover but it would be no surprise if a few weeds had escaped his eagle eye lately.
He's currently embedded three days a week at Woodside Energy, along with four of his PhD students, to work on a project focused on mapping images to 3D coordinates.
The former lecturer in robotics at Queen's University in Canada and Queensland University of Technology says the opportunity to collaborate with industry in such a hands-on way is invaluable.
"In particular for my students, who are spending their five months at Woodside working on a real life problem that is slightly off (their PhD) topic for them, but highly relevant in commercial life," he says.
"It's not just about using their theoretical backgrounds to solve problems but all those other things that come into play such as the networking, the teamwork and the communications skills they're engaging.
"We feel very included and part of the team at Woodside and I know that when we finish up at the end of the year, we'll use the knowledge we've gained for many years to come."
Professor Bennamoun is also, with Associate Professor Ajmal Mian, part of a team awarded over $8 million as part of the ARC (Australian Research Council) Hub for Driving Farming Productivity and Disease Prevention , led by Griffith University.
"The Hub will combine machine vision and learning, software quality control, engineering, biology and farming industries to build more intelligent systems with the UWA team providing key technological research," he explains.
"We'll cover computer vision and machine learning for object detection and recognition in cluttered environments; machine learning and classification for farming activities; early detection of diseases and pests; and automatic product grading and harvesting."
He says the Hub also includes researchers from the University of Sydney, University of Adelaide, Deakin University, CSIRO and five industry partners.
"Besides researchers from these institutions and field experts from the farming industry, postdoctoral fellows and PhD students will be employed to work closely and build solutions leading to higher farming efficiency giving the Australian industry an advantage globally," he says.
Add to that *three books being published this year from within his team, along with Professor Bennamoun's invitation to sit on the the Mathematical, Information and Computing Sciences Committee of the ARC ERA 2018 panel to assess Excellence in Research for Australia, and it's proving a busy and fulfilling year.
"Then there's the chemistry homework I have to help the kids with when I get home from work," laughs the dad-of-three. "Luckily my wife and I combine on that!"
* The three books published from School of Computer Science and Software Engineering include:
- A Guide to Convolutional Neural Networks for Computer Vision written by Professor Bennamoun along with former PhD students Salman Khan and Syed Afaq Ali Shah and researcher Hossein Rahmani.
- 3D Shape Analysis, Fundamentals, Theory and Applications by Professor Bennamoun, Yulan Guo (who was a PhD visitor at UWA for over three years, sponsored by the China Scholarship Council) and others.
- Neural Representations of Neural Language , from Professor Bennamoun along with PhD student Lyndon White and UWA's Professor Robert Togneri and Dr Wei Liu.
Tags
Groups

UWA Forward