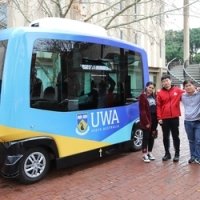 Wednesday, 8 August 2018
Visitors to UWA's Open Day this Sunday will have the opportunity to ride on a bus that will drive itself around campus.
The autonomous bus can carry up to 14 passengers and uses Telstra's mobile network to navigate. It's being trialled at UWA over a nine-day period, including Open Day.
The bus, supplied by electric vehicle company EasyMile, will drive itself at the campus speed limit of 5kmh, whilst a trained observer will be on board to oversee the technology and answer questions about the vehicle and UWA research to be undertaken during the trial.
Team members from the Renewable Energy Vehicle project (REV) at UWA's Faculty of Engineering and Mathematical Sciences will evaluate the accuracy and reliability of autonomous driving and the effects AVs have on other traffic, such as cyclists and pedestrians, they will also compare the commercially developed autonomous bus with driverless systems they've built.
UWA Vice-Chancellor Professor Dawn Freshwater said the autonomous bus would be a valuable research tool.
"The trial will be used for teaching and research but it will also provide input into ways we can plan for a sustainable campus of the future," Professor Freshwater said.
"The University is spread over a wide area and it is interesting to investigate if vehicles like this could be used in the future as a sustainable transport link between places."
UWA Business School staff and students from UWA's Planning and Transport Research Centre will also tap into the trial, using surveys and experiments to explore the impact of the technology on potential users.
Pickup points for passengers on Open Day this Sunday 12 August will be at Reid Library at the centre of the Crawley campus and at UWA Business School, which is located at the south-east corner of campus. The bus is equipped with wheelchair access. The bus will not drive on public roads during the UWA trial.
Media references
David Stacey (UWA Media Manager)                                  (+61 8) 6488 3229 / (+61 4) 32 637 716
Tags
Channels

Events — Students — University News

Groups

Business Information and Technology Services