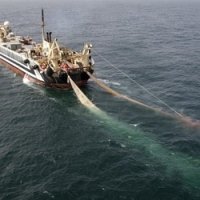 Thursday, 2 August 2018
A new study has found that since 1950 industrial fishing fleets have more than doubled the distance travelled to fishing grounds and spread so far that they now operate in more than 90 per cent of the global ocean.
Researchers at The University of Western Australia and the Sea Around Us initiative at the University of British Columbia revealed that even though heavily subsidised fleets from a small number of countries significantly increased the average distance they travelled from their home ports, the catch per vessel was only one-third of what they used to catch 65 years ago.
By mapping the growth and spread of industrial fishing since 1950, the team was able to determine the fishing fleets that operated farthest from their countries of origin.
Lead author David Tickler, from UWA's School of Biological Sciences, said that while most countries continued to focus their fishing efforts on local waters, countries such as Taiwan, South Korea, Spain and China had aggressively subsidised vessel and fuel costs to encourage their fleets to operate thousands of kilometres from their home ports.
"These fleets are fishing on average more than 2,000 kilometres from home and up to 6,000 kilometres in the case of the South Korean fleets," Mr Tickler said.
Despite this geographical expansion, the researchers found the catch rates of these fleets, as well as those of the rest of the top 20 fishing countries, have dramatically declined from more than 25 kilograms per kilometre travelled in the early 1950s to approximately 7 kilograms per kilometre travelled by 2014.
Overall, these 20 countries are responsible for 60 million tonnes or 80 per cent of the global industrial fishing catch. Mr Tickler said the findings showed that more fuel was being burned and more time was being spent at sea for every fish caught.
"These diminishing returns to fishing effort are a worrying indicator of the ability of fisheries to continue meeting consumer demands," he said.
Based on the reconstructed catch data, the researchers also discovered that expansions were most pronounced along the coasts and archipelagic waters of South-East Asia, Africa, South America and the South Asian subcontinent.
Co-author Professor Dirk Zeller, also from UWA's School of Biological Sciences and leader of the Sea Around Us – Indian Ocean , said the study was further proof of how subsidies paid to industrial fishing fleets encouraged the irrational use of fisheries resources.
"We have to accept that for fisheries to continue to support humanity into the future, we are going to have to allow the oceans some space and time to recover from a century of unfettered industrial fishing," Professor Zeller said.
The study was published in Science Advances.
Media references
Dave Tickler (UWA School of Biological Sciences)                 0451 008 755
David Stacey (UWA Media and Public Relations Manager)     (08) 6488 3229 / 0432 637 716
Tags
Channels

International — Media Statements — Research — University News

Groups

Centre for Marine Futures — Oceans Institute — Science Matters