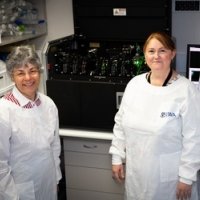 Thursday, 26 July 2018
A world-first medical invention that can detect abnormal chromosomes inside leukaemia cells is a finalist for the 2018 Australian Museum Eureka Prize.
The invention by researchers from The University of Western Australia can detect as few as one abnormal cell in 10,000 normal cells, a significant improvement on existing detection methods.
It means a patient with leukaemia can be closely monitored at any stage of their disease to assess their response to treatment and provides an early indicator of recurrence.
The invention will provide substantial improvements in cancer diagnostics and lead to more individualised treatments and better patient care.
The annual Australian Museum Eureka Prizes reward excellence in the fields of research and innovation, leadership, science engagement and school science. The UWA invention was selected as a finalist for the ANSTO Eureka Prize for Innovative Use of Technology .
Prize winners include scientists and researchers who are helping to solve some of the greatest challenges facing humanity and fostering the nation's next generation of scientific leaders and researchers.
Professor Wendy Erber, Dr Kathy Fuller and Henry Hui from the UWA Medical School, developed the automated technique, named Immuno-flowFISH, using imaging flow cytometry.
The team applied the Immuno-flowFISH method to study chronic lymphocytic leukaemia, the most common type of leukaemia in Australia which affects three per cent of people over 60 years of age.
Professor Wendy Erber said being selected as finalist for the Eureka Award was a great honour and the research team was delighted to have their work acknowledged because of the difference it will make to patients.
"It adds a new dimension to how leukaemia can be assessed and treatment decisions made," Professor Erber said.
Professor Erber said the team are now expanding the test so that it can be applied to other types of leukaemia and cancers.
"The method we have invented offers significant potential impact for patients with leukaemia as well as other cancers,"
"The invention promises a new era for diagnostic accuracy, personalised treatment and overall health outcomes for patients with cancers."
The Eureka Prize winners will be announced on 29 August 2018.
Media references
David Stacey (UWA Media and PR Manager)                                      08 6488 3229 / 0432 637 716
Tags
Channels

Awards and Prizes — Media Statements — University News

Groups

Faculty of Health and Medical Sciences