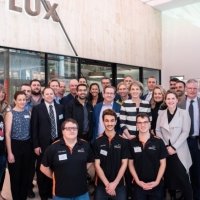 Friday, 6 July 2018
The University of Western Australia (UWA) Living Lab project has been acknowledged for its inaugural work fostering entrepreneurial thinking, technical learning and a future-focussed approach.
The project, initiated and developed by Professor Melinda Hodkiewicz of the Department of Mechanical Engineering and BHP Fellow for Engineering for Remote Operations, will enable local firms to inexpensively test tomorrow's innovations today using the UWA campus facilities and student engineering.
The project has received launch funding from the BHP Social Investment group and CORE Innovation Hub as part of the federally funded METS Ignited Collaborative Project Funds which supports industry-led projects to improve the productivity, competitiveness and innovative capacity in the Mining Equipment, Technology and Services (METS) sector.
The UWA Living Lab project funding was formally announced and congratulated at the METS Ignited event at the Core Innovation Hub in Perth this week. The announcement was made by the Australian Minister for Jobs and Innovation, the Hon Michaelia Cash, who spoke broadly about innovation in the resource sector.
Fraser Bullock (Computer Science), Alain Bartels (Mechanical Engineering), Aiden Taba (Electrical and Electronic Engineering) and Paul McCann (Campus Management) accepted the award on behalf of the UWA Living Lab Project. Senator Cash met with the students and was intrigued and pleased with the concept of the UWA Living Lab.
"The project will deliver a dedicated Living Lab facility, process and industry network to help early-stage companies test and demonstrate their electronic solutions for real-world mine site using innovations such as drones, MEMS-IOT sensing devices, robots and advanced analytics", said Professor Hodkiewicz.
The partnership between UWA, BHP and CORE Innovation Hub will establish a modern, dynamic relationship exploring innovative opportunities, new and exciting research and sharing of knowledge, ideas and prototypes between industry and academic experts. It will leverage the exceptional human capital and resources WA has to offer.
The UWA Living Lab project was the only university project to receive funding.
Find out more about the UWA Living Lab project here .
Media references
Hannah Carlisle (Marketing Officer, Faculty of Engineering and Mathematical Sciences) (+61 8) 6488 5079
Tags
Groups

Faculty of Engineering and Mathematical Sciences