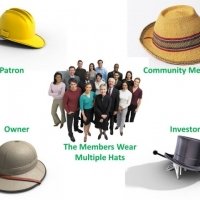 Thursday, 21 June 2018
To fully engage the members of co-operative and mutual enterprises, managers and directors of CME's must understand their members wear four hats when engaging with their co-operative, according to a study conducted by researchers from The University of Western Australia.
The study analysed three Australian producer co-operatives including Co-operative Bulk Handling Ltd (CBH), Murray Goulburn Co-operative (MGC), and Geraldton Fisherman's Co-operative Ltd (GFC), and examined the nature of member commitment and loyalty in co-operative and mutual enterprises (CMEs).
Professor Tim Mazzarol from UWA's Business School and Institute of Agriculture says directors and managers of CME's should recognise that members do wear multiple hats with which they engage with the enterprise. These hats are Investor , Patron , Owner and Community Member .
"Recognition of these multiple hats provides directors and managers with more opportunities with which to engage more effectively and build commitment with members," Professor Mazzarol said.
"Fostering a sense of common purpose and ownership among members should be part of the CMEs communications strategy and it should be congruent with the membership's own values, goals and identity."
Co-author and UWA Adjunct Senior Lecturer Elena Mamouni Limnios said the Community Member Hat appears to be the least understood by directors and managers, however it is potentially the most significant to the CMEs' development of its member value proposition.
"In the development of an effective and sustainable MVP, the directors and managers of a CME should widen their focus from the financial and functional dimensions of member value," Dr Limnios said.
"While quality and efficiency in service delivery, or competitive costs and pricing, plus attractive dividends can form the foundation of the member value proposition, these intangible emotional and affective attributes are likely to provide the critical elements needed to maintain loyalty and commitment."
The paper, The member wears Four Hats: A member identification framework for co-operative enterprises was published in the Journal of Co-operative Organization and Management . The research was supported by the Australian Research Council Linkage Grant, and industry supporters Co-operatives WA, Co-operative Bulk Handling Ltd, Capricorn Society Ltd and Ravensdown Fertilizer Co-operative.
Media references
Professor Tim Mazzarol (UWA Business School and Institute of Agriculture) (+61 8) 6488 3981 (+61 4) 22 914 850
Diana Boykett (Communications Officer, The UWA Institute of Agriculture) (+61 8) 6488 3756 / (+61 4) 04 152 262
Tags
Groups

UWA Institute of Agriculture