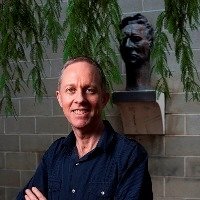 Thursday, 31 May 2018
It was through his mother's music teacher, Sir Frank Callaway, that Graeme Gilling first heard about the then School of Music at UWA.

Inspired by Frank to make the move from New Zealand, Graeme joined the School to pursue postgraduate studies in collaborative piano with Professor Roger Smalley. A little over three decades on, Graeme is now Head of Performance and Keyboard Studies at the Conservatorium of Music and inspiring the next generation of musicians.

While he started his music studies as a composer, Graeme primarily sees himself as a pianist. In fact, the laissez-faire tutelage of piano virtuoso Professor Smalley is something he still reflects on and he credits his late teacher for the style of teaching he now shares with his students.

"I guess my teaching emphasises simplicity, and the fact that music is, first and foremost, a means of communication.

"What I try to instil in my students is an understanding that music exists 'between the notes' and for that to happen successfully, they need to understand the text and nuances of the composition and the era in which the piece was composed.

"There is no language as universal as music and no better way to express an idea than through performance," Graeme says.

Talking to Graeme you get the feeling that a few words of wisdom go a long way with his students. He has a wealth of experience informing his guidance, with many years freelancing and performing with the WA Ballet Company, WA Arts Orchestra, and the WA Opera, as well as being a pianist for the WA Symphony Orchestra.

Graeme takes great satisfaction in nurturing the next generation of musicians and is proud when he sees his graduates contributing to the world of music by performing in or working for leading orchestras and arts organisations.

"I love it when our students tell me about their successes," Graeme says. "It's always a great validation of the effort and countless hours of practice that go into making and shaping a musician."

While he wears many 'music hats', being the WA Chair of the Australian Music Examination Board (AMEB) is one that keeps him especially busy this year.

"This year marks the Centenary of AMEB becoming a Federal entity which has been at the forefront of music as well as speech and drama education in this country.

"There are a number of interesting activities already underway to mark the anniversary.

"One of the most exciting centenary initiatives is the Online Orchestra project which invites musicians across the nation to perform their part of  'Waltzing Matilda' for a collaborative orchestral performance.

"The results of this will be a first-of-its-kind performance shown on screen at Melbourne's Federation Square on 12 September.

"The Online Orchestra is just one example of the way the AMEB continues to diversify as an organisation to maintain its relevance in the world of music education.

"Other examples include the new Music Theatre and Rockschool syllabuses, and we've become the first body of its type in the world to offer its theory exams online," Graeme says.

As for the AMEB (WA) celebrations, an event was held last month at Government House which featured performances by our Conservatorium of Music piano prodigy Shaun-Hern Lee, and speech and drama performances from Bachelor of Arts students Kieren Marley and Alexandria Boehm.

A national centenary event is also planned in Tasmania in November at the Museum of Old and New Art.
Tags
Channels

Arts and Culture

Groups

UWA Forward