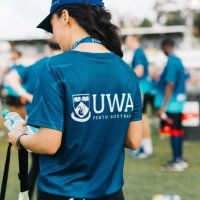 Monday, 28 May 2018
Over 35,000 participants ran, walked and wheeled their way through the streets of Perth last weekend (27 May) for the ninth annual HBF Run for a Reason.
A range of participants of all abilities ran the three races, including the UWA Half Marathon, which took its course through the historic and beautiful grounds of the UWA Perth Campus.
This new course offered a flatter and faster run, to the advantage of over 3,500 Half Marathon participants.
141 participants ran under the Team UWA banner, and benefited from training sessions and fitness tips in the lead up to the event.
Speaking after the race, UWA Sport Fitness Officer Sue O'Brien praised the efforts of the Team UWA runners.
"It was wonderful to see so many Team UWA runners and walkers out there on the course, finishing with some great times and raising money for charity. It was such a buzz running through the UWA campus and seeing some familiar faces cheering us on!"
Former UWA student athlete Kate Fitzsimmons finished in second place in the Half Marathon, coming in less than two minutes behind female winner Rochelle Rodgers.
In the 12km run, veteran triathlete and UWA alumni Felicity Sheedy-Ryan finished in second, less than thirty seconds 30 seconds behind winner Linda Spencer, while UWA student Michael Lori came in second for the men's division, just in front of School of Agriculture and Environment Research Fellow Dr Roberto Busi in third.
Current student athlete and UWA Athletics Club runner Jesse Hunt finished in third place in the 4km event, finishing with the quick time of 11.45, with just 9 seconds separating first and third.
Congratulations to the community, collectively raising over $1 million for WA health charities including the event's feature charities: Cancer Council WA, Diabetes WA, Heart Foundation WA and Lifeline WA.
Re-live all the action from the day by viewing the photos here .
Media references
Louis Humberstone
Graduate Officer, UWA Sport Marketing, Communication and Events
6488 3768
Tags
Channels

Sport

Groups

UWA Sport