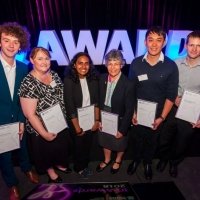 Friday, 11 May 2018
An invention to monitor leukemia cells in the blood, methods to develop better medicines with fewer side-effects and an app to help school students develop skills for the future workplace were big winners at this year's University of Western Australia IQ Awards.
The IQ (Innovation Quarter) Awards celebrate UWA researchers, staff and students who are developing cutting-edge solutions and inventing new technologies to some of the world's toughest challenges.
Professor Wendy Erber and her team from UWA's Faculty of Health and Medical Sciences won the Research Innovation and Enterprise Award for developing Immuno-flowFISH, a device that will significantly improve the ability to identify genetic changes in leukaemia cancer cells. More than 20,000 cells can be studied in one test, a vast improvement on current methods which only assess a few hundred cells and are much slower.

Professor Kevin Pfleger, Head of Molecular Endocrinology and Pharmacology at UWA Centre for Medical Research, won the Innovation Champion Award for his work developing medicines and treatments including combination therapy for kidney disease and furthering links between medical research and its application in clinics.

UWA Science student Conor Mclaughlin was awarded the Student Start-up of the Year Award for developing a website application that comprises of ten modules that teach ten skills for the future workplace – social media, cross cultural awareness, adaptability, creative thinking, enterprise skills, modern literacy, critical thinking, emotional intelligence, information communication tecchnology and problem solving. The app is available to teachers and students.

The Peoples Choice Award was awarded to Kishaini Baskararao, a student from the Faculty of Health and Medical Sciences for her work on a project that provides quality curriculum subjects for disadvantaged rural students overseas to help lift them out of poverty and improve their opportunities of a quality education and employment.

The winners were announced last night at a ceremony at The University of Western Australia attended by UWA staff and students and representatives from the research community and industry.
Media references
Jess Reid (UWA Media and PR Advisor)     (+61 8) 6488 6876
Tags
Channels

Awards and Prizes — Media Statements — Regional — Students — University News