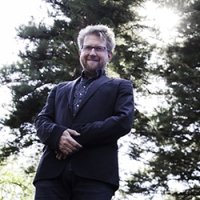 Wednesday, 9 May 2018
One of Western Australia's most successful cultural exports, Iain Grandage, has been appointed Artistic Director of Perth Festival for 2020-23.
Mr Grandage will succeed current Artistic Director Wendy Martin after the 2019 Festival.
Raised and educated in WA, Mr Grandage is one of Australia's most highly regarded and acclaimed collaborative artists and programmers.
He has won seven Helpmann Awards for his compositions for theatre ( Cloudstreet, Secret River), for dance ( When Time Stops), for opera ( The Rabbits , with Kate Miller-Heidke), for silent film ( Satan Jawa, with Rahayu Suppangah ) and as a music director for Meow Meow's Little Match Girl and Secret River.
He has received Victorian Green Room Awards, the prestigious Sidney Myer Performing Arts Award for an Individual, and the APRA/AMC award for Vocal Work of the Year for his opera based on Tim Winton's novel The Riders .
As a programmer, Mr Grandage has curated the chamber music program for the Adelaide Festival and been the Artistic Director of the Port Fairy Spring Music Festival since 2016.
He has been composer-in-Residence with the WA Symphony Orchestra and has an extensive track record of collaboration with indigenous artists across the country. He is a University of Western Australia graduate and the proud recipient of an honorary Doctorate from that institution.
Perth Festival chair John Barrington said Mr Grandage was a brilliant and inspiring collaborator with a vision to develop the Festival's existing strengths in championing Western Australian stories and talent alongside the greatest artists in the world.
"We are delighted that Iain will bring his exciting new ideas to Australia's longest-running and most diverse curated arts festival and we look forward to working with him to celebrate Perth's unique qualities and our creative community," Mr Barrington said.
Perth Festival has led decades of cultural and creative growth in WA since being founded in 1953 by the University of Western Australia. In its 65th anniversary year, the Festival is renowned as one of the greatest arts festivals in the world and remains the jewel in UWA's crown for community outreach and engagement.
UWA Vice-Chancellor Professor Dawn Freshwater said Mr Grandage would bring an inspiring new direction to the Perth Festival.
"It's exciting to have a highly talented local artist join the Festival, who was raised in Perth and is a UWA graduate," Professor Freshwater said.
"Iain will continue the Perth Festival's tradition of creating rich, diverse and high quality programs that excite and engage local and international audiences and bring all that Perth has to offer to the international stage."
Mr Grandage, who returned to WA recently after a decade in Melbourne, said it was a thrill to be chosen to lead the Festival in the State where he grew up and began his career.
"Perth Festival inspired my journey into the performing arts when I first experienced it in the early 1990s," he said. "I hope to similarly energise local artists and audiences by extending the Festival's foundation mission as a Festival for all people.
"It's a privilege to lead a Festival that has such a rich history, and to play a part in shaping its future on Noongar Boodja by presenting wondrous art made with intelligence and heart that places international artists cheek-by-jowl with locals."
Mr Grandage will commence working with the Festival later this year to plan and deliver the 2020-23 Festivals.
Wendy Martin will conclude her four-year tenure as Artistic Director with a final curated program next February. The 2019 Perth Festival will run from 8 February to 3 March and the full program will be launched in November.
Media references
WA MEDIA: Stephen Bevis
+61 8 6488 8618 / 0448 927 281
NATIONAL MEDIA: Miranda Brown
+61 3 9419 0931 / 0411 568 781
Tags
Channels

Media Statements — University News