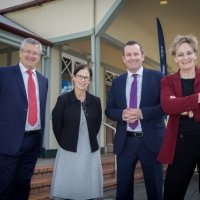 Tuesday, 24 April 2018
The Great Southern is one step closer to becoming a global leader in marine renewable energy after the Albany Visitor Centre was announced as the location for the Wave Energy Research Centre.

The announcement comes after the State Government awarded $3.75 million to The University of Western Australia to establish a marine energy research hub in Albany to drive offshore research and innovation.

UWA Vice-Chancellor Professor Dawn Freshwater said the University was pleased to play a key role in the project and work with government and industry leaders to expand WA's knowledge of renewable wave energy.

"With our abundance of wave, wind and solar energy, Western Australia is ideally positioned to be at the forefront of renewable energy research and technology," Professor Freshwater said.

"The Wave Energy Research Centre will undertake world-class research to support the growth of the entire marine renewable energy sector.

"Research will be undertaken across a range of areas including offshore engineering, oceanography, marine biology, marine planning and management with potential impact on marine policy and law, commerce and economics."

The Wave Energy Research Centre will become ingrained in the Great Southern community and continue to work closely with UWA's Oceans Institute and industry partners to support the development of a wave energy industry in Albany and across WA.

"The University is already a global leader in offshore engineering with world-class geotechnical and hydrodynamic laboratory facilities at the Crawley campus," Professor Freshwater said. "By connecting these facilities to our Albany campus, we will be well placed to expand into a variety of marine research programs and to coordinate innovative research."

State Government funding for the centre will be provided over four years and bring together more than 30 researchers from UWA.
Media references
David Stacey (UWA Media Manager)                                   (+61 8) 6488 3229 / (+61 4) 32 637 716
Tags
Channels

Business and Industry — Events — Media Statements — Regional — Research — Science — University News

Groups

ECM Faculty Focus — Faculty of Engineering and Mathematical Sciences — Great Southern — Oceans Institute — School of Physics — Science Matters — The Albany Centre