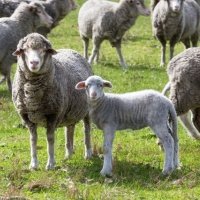 Tuesday, 17 April 2018
A calm temperament in ewes improves ovulation rate and successful pregnancies, according to a study published by The University of Western Australia.

The study, which was conducted in collaboration with researchers from Uruguay, the Department of Primary Industries and Regional Development WA and UWA, has implications for the impact of stress in human reproduction.
The team investigated the reproductive outcomes of 200 Merino ewes known to have either a calm or a nervous temperament. They found the ovulation rate and rate of successful pregnancies to be higher in the calm ewes.
Associate Professor Dominique Blache from UWA's School of Agriculture and Environment and Institute of Agriculture who led the study said temperament affects ovulation rate but not the occurrence of ovulation.
"Differences in reproductive outcomes between the calm and nervous ewes were mainly due to a higher ovulation rate in calm ewes," Professor Blache said.
"Even when the ovulation rate is maintained, some of the nervous ewes have problems in maintaining their pregnancy possibly because of the quality of the eggs and subsequent embryos, and perhaps the quality of the uterine environment during the first two weeks of pregnancy."
The results also suggest that reproduction in nervous ewes is compromised by factors leading up to ovulation and conception, or in the uterine environment during early pregnancy, which reflects differences in energy utilisation.
Understanding why the reproductive outcome of these ewes is different will help to breed sheep better suited for the production system, improving their welfare.
The paper, Calm Merino ewes have a higher ovulation rate and more multiple pregnancies than nervous ewes was published in the journal Animal and the research was supported by Meat and Livestock Australia.
Media references
Assoc/Prof Dominique Blache (The UWA Institute of Agriculture and School of Agriculture and Environment)
(+61 8) 6488 3735
Diana Boykett (Communications Officer, The UWA Institute of Agriculture)
(+61 8) 6488 3756 / (+61 4) 04 152 262
Tags
Channels

Research — Science

Groups

UWA Institute of Agriculture