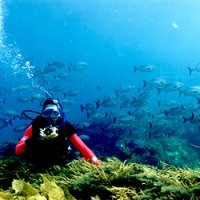 Wednesday, 11 April 2018
A new international study by The University of Western Australia has found marine heatwaves have increased by more than 50 per cent over the past century with devastating effects on global marine ecosystems. The researchers warn these extreme events will become even longer and more frequent under continued global warming.
The findings, published today in Nature Communications, were based on in situ and satellite observations of ocean temperature during the past 100 years and show how ocean temperature extremes have been changing globally.
Prolonged periods of unusually high ocean surface temperatures, known as marine heatwaves, are extreme climate events that can have detrimental effects on marine ecosystems. Ongoing warming has been observed extensively in the upper ocean, however trends in extreme temperatures have not been examined on a global scale before.
The results of the study showed that annual marine heatwave days increased by 54 per cent from 1925 to 2016, with an accelerating trend since 1982.
Study co-author Dr Thomas Wernberg, from UWA's Oceans Institute, said the research had important implications for marine biodiversity and marine industries.
"This means a marine ecosystem that used to experience 30 days of extreme heat per year in the early 20th century is now experiencing 45 marine heatwave days per year," Dr Wernberg said.
"That extra exposure time to extreme heat can have detrimental effects on ecosystem health, with impacts on biodiversity as well as economic activities including fisheries and aquaculture."
Marine heatwaves have already led to substantial ecological impacts globally, including sustained loss of kelp forests, coral bleaching, mass mortality of marine invertebrates due to heat stress, long-distance species range shifts and fishery closures.
Dr Wernberg said marine heatwaves had already had a devastating impact on the Western Australian coast.
"The 2011 marine heatwave in Western Australia, for example, caused extensive bleaching of corals from Ningaloo to the Abrolhos, massive seagrass die-off in the world heritage-listed Shark Bay and collapse of kelp forests across hundreds kilometres of coastline, and some of our important fisheries were heavily affected," he said.
"Given the likelihood of continued ocean surface warming throughout the 21st century and the accelerating trend observed in recent decades, we can expect a continued global increase in marine heatwaves in the future, resulting in substantial ecological and economic impacts to our oceans."
The paper can be accessed online: https://www.nature.com/articles/s41467-018-03732-9
Media references
Dr Thomas Wernberg (UWA Oceans Institute)   (+61 8) 6488 7204 / (+61 4) 28 730 044David Stacey (UWA Media and Public Relations Manager)      (+61 8) 6488 3229/ (+61 4) 32 637 716
Tags
Channels

Media Statements — University News