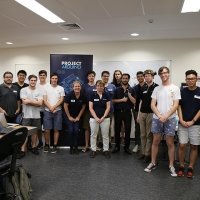 Monday, 9 April 2018
A group of UWA Engineering students have formed teams to take part in the Thales Global Technology competition which was launched on Thursday 22 March by Thales Australia. Students will be submitting their project ideas in the coming weeks.z
The competition encompasses engineering student participants from some of the top Universities in 10 countries including; China, Canada, US, UK, Singapore, Middle East, France, Netherlands, Portugal and Australia. Jamie Flunder Digital Media Designer at Thales Australia said "some really great ideas were discussed, including some advanced technology concepts which have huge real world potential".
The teams will build a Thales-inspired project using an Arduino open-source electronics prototyping platform, along with creating a promotional video pitching their project to the public and Thales judges. Teams will then showcase their work in front of other UWA teams. Following this, teams will enter the country wide competition. The top 3 projects will go through to the final stage, with the winning project being announced in May 2018.
Thales is an innovative and cutting edge business that links brilliant people from all over the world together to share ideas and inspire each other. In aerospace, transportation, defence, security and space. The competition is an excellent opportunity for UWA Engineering students to potentially positively impact the future on a global scale, while gaining hands-on experience that will in-turn better prepare them for careers of the future.
To find out more or to sign up for next year's competition visit https://www.thalesarduino.com/arduino
Media references
Chloe Leopold (UWA Faculty of Engineering Mathematical Sciences) (+61 8) 6488 2260
Tags
Channels

Business and Industry

Groups

Faculty of Engineering and Mathematical Sciences