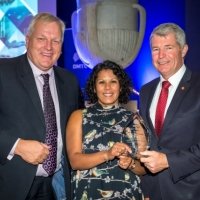 Wednesday, 4 April 2018
Dr Mitali Sarkar-Tyson from the School of Biomedical Sciences has won the Project Leader Award from the Defence Materials Technology Centre (DMTC).
The award was presented to Dr Sarkar-Tyson for her outstanding leadership of a project involving research partners at the University of Western Australia, DST Group, the Peter Doherty Institute and the University of Wurzburg. The project is focused on delivering novel antivirulence compounds, which are active against potential bio-warfare agents including Burkholderia pseudomallei.
The Project Leadership Award is awarded to leaders of a project team who have contributed significantly to achieving project outcomes.
The annual DMTC Awards for Excellence dinner was held at the National Gallery in Canberra.
Media references
Emily Stone , Marketing Officer +61 6457 7365
Tags
Groups

Faculty of Health and Medical Sciences