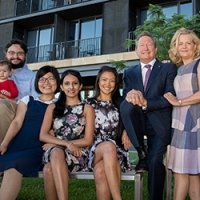 Thursday, 29 March 2018
Perth's river landscape has an exciting new addition, designed to attract the brightest minds to Western Australia from around the world, with the opening today of Forrest Hall at The University of Western Australia.
Forrest Hall has been made possible by the philanthropic donation of Andrew and Nicola Forrest, who in 2013 donated $65 million to establish the Forrest Research Foundation to provide scholarships and postdoctoral fellowships across all five Western Australian universities.
$27.5 million of that donation - topped up with a pledge of $2.9 million from UWA - was set aside for Forrest Hall, a unique accommodation facility which will provide a stimulating and creative living environment for scholars and rising research stars attending Western Australian universities on Forrest Research Foundation Scholarships.
Forrest Hall was opened today by the Honourable Julie Bishop MP, Minister for Foreign Affairs and Member for Curtin, with the unveiling of a plaque that will be fixed to Forrest Hall.
Designed by internationally renowned Kerry Hill Architects, Forrest Hall consists of 45 self-catered one and two bedroom apartments all with sweeping river views, an outdoor terrace, a multi-purpose room for seminars and functions, and undercroft car parking facilities.
The design of Forrest Hall complements UWA's campus and will become a landmark on the Swan River at the corner of Mounts Bay Road and Hackett Drive.
University of Western Australia Vice-Chancellor Professor Dawn Freshwater said Forrest Hall was very different to existing student accommodation at UWA and was designed with young families in mind.
"In a first for the State we are catering for the specific needs of postgraduate research students who have completed their undergraduate studies and are embarking on research careers," Professor Freshwater said.
"They will have a wonderful place to call home, and families are welcome. One of our first residents has brought his wife and one-year-old daughter.
"The University is investing in a future where we will work together and thrive. New co-working spaces, such as Forrest Hall, will bring together the best minds from Western Australia and around the world to share their knowledge in the pursuit of innovation."
Inaugural Forrest Scholar Timothy Hammer from the US, who is at UWA researching how plants adapt to unique environmental conditions in Australia, has already moved into Forrest Hall with his wife Dominque and daughter Linnéa.
"My scholarship has allowed me to conduct research in one of the best schools for plant biology and in one of the world's biodiversity hotspots," Mr Hammer said.
"Moving into this accommodation has meant I have zero commute time and can spend more time with my family and soak up the whole community aspect of living here."
Media references
David Stacey (UWA Media Manager)                                          (+61 8) 6488 3229 / (+61 4) 32 637 716
Tags
Channels

Media Statements — University News