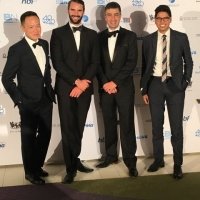 Thursday, 8 March 2018
A leading researcher from The University of Western Australia has taken out a top award at the 40under40 Awards, announced last night. Dr Tristan Clemons, who is working on therapeutics to help treat cancer, received the People's Choice Award.
Dr Andrew Guzzomi from UWA and eight graduates were also recognised in the 40under40 Awards. UWA's Caine Chennatt was a finalist.
Established by Business News in 2002, the 40under40 Awards celebrate the passion, vision and achievements of Western Australia's finest young business people and the contribution they are making to the future of WA.
Outstanding UWA 2018 40under40 achievers
Winners
Dr Tristan Clemons - UWA School of Molecular Sciences
Winner of the 2018 People's Choice Award
Winner of the Intrapreneur Category Award

UWA's Dr Tristan Clemons specialises in nanotechnology. He creates therapeutics that will help treat cancer, burns and central nervous system injuries. Tristan's work is supporting patients, helping make major advances in health and benefiting the WA economy. Tristan is a major advocate for science outreach and mentors thousands of science students to inspire the next generation of leaders. He is also a member of the Australian men's hockey team and has won numerous high profile awards including WA Student Scientist of the Year in the Premier's Science Awards (2013) and the WA Young Tall Poppy Science Award (2014).
Richard Devlin - UWA graduate
Winner of Small Business Category Award
Richard Devlin is owner and managing director of agricultural research business Living Farm Mr Devlin bought an existing ag research business in York with partner, John Foss, for $70,000 in 2008 and combined it with Mr Foss's business, based in Bruce Rock. Mr Devlin sees the business as providing the bridge between farmers and the specialists in fields such as genetics and fertiliser, to prove and deliver concepts for end users. Mr Devlin is vice-president of the local tennis club and served the local volunteer fire and rescue unit for five years.
Katharine Giles - UWA graduate
Winner of a 40under40 Award
Katharine Giles is investment manager at Brandon Capital, a venture capital firm devoted to supporting Australian life sciences businesses. She has worked on funding deals for biomedical science businesses including OncoRes Medical, a business developing a probe to improve breast cancer treatments. Dr Giles is interim chief executive of OncoRes Medical. The deal took three years to stitch together, Dr Giles said, and it was the first WA venture deal done with the Department of Health. In partnership with Breast Care WA and the McGrath Foundation, she created an interactive iPhone breast checker, while in 2016, she co-founded Spark Co-Lab at UWA, a not for profit education provider set up to educate, inspire and connect local talent and develop the local medical innovation ecosystem. She is also a member of the Curtin Commercialisation Advisory Board
Matt Huxtable - UWA graduate
Winner of a 40under40 Award
While many of his peers at The University of Western Australia pursued positions at established firms after graduating in 2000, Matt Huxtable took his degree in landscape architecture and launched a new business. Driven by a passion for design and a desire to make a lasting contribution to the profession in WA, Mr Huxtable co-founded Newforms Landscape Architecture in 2000, before co-establishing his second venture, PHASE3 Landscape Construction, in 2007. Both businesses have grown to become award-winning practices, with more than 20 accolades between them including overall industry winners in design and construction. Phase3 now employs more than 50 staff and engages over 100 sub-contractors. Mr Huxtable's commitment to giving back to the local industry is reflected in his involvement in a number of professional bodies and associations, including a four-year stint as the state president of the Australian Institute of Landscape Architecture.
Dr Andrew Guzzomi - UWA Faculty of Engineering and Mathematical Sciences
Winner of a 40under40 Award

Dr Andrew Guzzomi is an agricultural engineer and researcher at UWA whose research is helping develop engineering solutions to challenging and complex global agricultural problems. Towards the middle of this century we will need to feed 50 per cent more people and restore vast areas of degraded land. Andrew's research and inventions are helping address these issues. Andrew was instrumental in the development of a mechanical weeding device to overcome reliance on herbicides and in the development of 'flaming seed' technology that is changing how degraded land is restored using native seeds. In 2016 he was awarded WA Innovator of the Year.
Nick McNaughton - UWA graduate
Winner of a 40under40 Award
Nick McNaughton is a mechanical engineer who has found success by helping to grow early-stage businesses in the subsea oil and gas sector. Mr McNaughton has led design teams to develop robotic equipment packages to rectify complex problems on subsea equipment and in the development of new products. As the technology manager of Subsea Engineering Associates, Mr McNaughton leads the development and commercialisation of the company's proprietary software-based technologies. SEA has developed the ICE platform, a suite of software and data management tools that use automation to vastly accelerate engineering processes for subsea pipelines which has enabled Perth-based engineers to compete successfully in international markets.
Jessica Pitt - UWA graduate
Winner of a 40under40 Award
Jessica Pitt started her career as a physiotherapist and moved through a range of positions in healthcare, prior to launching a business in education. With the aim of providing high-quality corporate training, Scope Training is now one of Western Australia's most respected corporate education providers, winning a host of accolades including the prestigious WA Training Awards in 2015 and 2016, as well as being a finalist in 2017. Scope was selected by the Australian government (VET Alumni) to promote quality in the education sector. Ms Pitt leads a team of highly skilled and passionate individuals who work to improve the lives of others, developing individual and organisational capacity, providing opportunities and giving back to the community.
Elizabeth Shaw - UWA graduate
Winner of the Professional Services Category Award
Elizabeth Shaw is a passionate gender equality advocate and commentator who holds the role of Associate Director at KPMG. Elizabeth leads KPMG's approach to diversity and inclusion. She balances this role while serving as the President of UN Women Australia – the youngest person to hold this role and the first Western Australian. She is also the Deputy Chair of Inclusion WA and on the Steering Committee of the 30% Club, focused on increasing the number of female directors on ASX-200 boards. Elizabeth was recognised by AFR/Westpac as one of Australia's 100 most influential women and a received a Western Australian of the Year Youth Award from Celebrate WA.
Kate West - UWA graduate
Winner of a 40under40 Award
Kate West has forged a successful career as an engineer and is currently one of three principals who hold joint leadership of consulting group Arup's operations in Western Australia. She was the first female principal and group leader with Arup in WA across the company's 50-year history. Having worked internationally as the project director or lead consultant on significant projects such as Dublin Airport Terminal 2 and Perth Airport, Ms West currently leads a team of 25 engineers, planners, management consultants and digital specialists. She has also been recognised for her work, winning the Consult Australia National Future Leaders Award in 2005 and the NAWIC Crystal Vision Award in 2017, along with Arup and Clough scholarships in 1999. Ms West has taken a proactive role in her local community, and over the past four years has been involved in her local community kindergarten.
Adam Yap - UWA graduate
Winner of the Innovation & Technology Category Award

Adam Yap is a digital entrepreneur and Technical Co-founder of HealthEngine, Australia's leading health technology company, that is transforming the way people access and experience healthcare. HealthEngine gives 1.5 million users every month greater control over how they manage their health, with services like online bookings, appointment reminders and medication management via a smartphone app.  Adam has grown HealthEngine from a five person startup to over 140 people nationally. He has attracted nearly $50 million in private funding for HealthEngine.
Finalist
Caine Chennatt - UWA Cultural Precinct
40under40 Awards finalist

Caine Chennatt is a creative producer who manages arts programs at UWA and across Perth. Raised in the Middle East during the Gulf Wars and witnessing many human rights breaches, Caine was driven to make a difference to social inclusion and accessibility through the arts. Since arriving in Australia at age 17, his creative vision, programs and work with industry have been making the arts more accessible and engaging in WA.
Media references
Jess Reid (UWA Media and PR Officer) (+61 8) 6488 6876
Tags
Channels

Business and Industry — Media Statements — Research — Science — University News