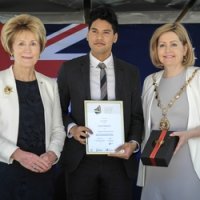 Thursday, 8 February 2018
The University of Western Australia has a continual roll call of awards, scholarships and prizes presented to staff and students. To recognise these achievements, a monthly article is published on the UWA news page on the website and in UWA Forward on the first week of every month.

If you know of any great awards or achievements across the University please email [email protected]

Name: Caine Chennat, UWA Cultural Precinct
Achievement: Caine was awarded the City of Perth Community Citizen of the Year for his work at UWA's Lawrence Wilson Gallery where he has made a significant difference to the lives of Alzheimer's sufferers and their carers. Caine's work to create tactile copies of art through 3D technology has also made a difference to the way the visually impaired interact with art, breaking down accessibility barriers and creating immersive and inclusive experiences.
Name: Associate Professor Natalie Skead, Head of UWA Law School
Achievement: Associate Professor Skead, Dean of the Law School received a National Award for Teaching Excellence from the Minister for Education and Training at the Australian Awards for University Teaching. The Award recognises her contribution to higher education that transforms students through innovative and reflective teaching that focuses on interaction, engagement and skills development.
Name: Associate Professor Lynette Fernandes, School of Biomedical Sciences (Pharmacology)
Achievement: Associate Professor Fernandes won a 2017 Australasian Society of Clinical and Experimental Pharmacologists and Toxicologists (ASCEPT) Teaching Excellence Award. The ASCEPT Teaching Excellence Award is awarded annually to a member of ASCEPT who has demonstrated an outstanding contribution to Education in the fields of Australasian Pharmacology or Toxicology.
Name: Dr Tony Hughes-d'Aeth, UWA Westerly Centre
Achievement: The book Like Nothing on this Earth by Dr Tony Hughes-d'Aeth , Discipline Chair of English and Cultural Studies, was shortlisted for the inaugural Australian University Heads of English (AUHE) prize for Literary Scholarship Like Nothing on this Earth is a literary history of Western Australia's wheatbelt region, and looks at the work of writers such as Albert Facey, Peter Cowan, Dorothy Hewett, Jack Davis, Elizabeth Jolley, and John Kinsella.
Congratulations to UWA staff and students.
Media references
Jess Reid (UWA Media and Public Relations Advisor)                                          (+61 8) 6488 6876
Tags
Channels

Appointments — Awards and Prizes — Media Statements — Teaching and Learning — University News

Groups

Cultural Precinct — Faculty of Arts, Business, Law and Education — Faculty of Health and Medical Sciences — School of Medicine and Pharmacology — UWA Forward — Westerly Centre