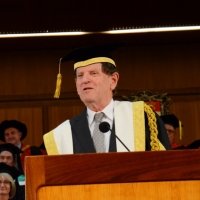 Friday, 2 February 2018
The Honourable Robert French AC has been formally installed as the 15th Chancellor of The University of Western Australia.
During a ceremony in Winthrop Hall last night before more than 400 guests, including the Governor of Western Australia Kerry Sanderson, the Chancellor was presented with regalia – formally symbolising his appointment to steward one of the country's leading universities.
Dr French said he was 'honoured and delighted to have been appointed as Chancellor of this great Australian University.'
He had accepted the appointment "because the institution  … does fundamentally important things in the transmission of human knowledge and learning and, through its research and scholarship, in the development of new knowledge."
UWA Vice-Chancellor Professor Dawn Freshwater said the University was fortunate to have an experienced leader who was internationally renowned.
"On behalf of the UWA community it is an honour to welcome our new Chancellor, Dr Robert French," Professor Freshwater said.
"Dr French is a firm believer in the value of a quality education and fostering a learning environment which encourages critical thinking and inclusion, exemplifying the University's values.
"I would also like to acknowledge and pay tribute to our former Chancellor Dr Michael Chaney who for 12 years made an enormous contribution to the University."
Dr French was the twelfth Chief Justice of the High Court of Australia, and the first Western Australian to head the highest court in Australia. He is a graduate of The University of Western Australia with a Bachelor of Science in Physics in 1968 followed by a Bachelor of Laws in 1971. He received an Honorary Doctorate from the University in 2011.
As an undergraduate, Dr French led an active student life. He was President of the University's Liberal Club, served as Treasurer of the UWA Student Guild in 1970 and was elected by the student body as a member of the University's governing body – the Senate. He also served as the first Chancellor of Edith Cowan University from its foundation in 1991 until 1997.
Dr French has been an active advocate for the rights of Indigenous Australians. In the early 1970s, he helped found the WA Aboriginal Legal Service and was its Chairman from 1973 to 1975. He was President of the National Native Title Tribunal from 1994 to 1998.
Media references
David Stacey (UWA Media Manager)(+61 8) 6488 3229 / (+61 4) 32 637 716
Tags
Channels

Media Statements — University News