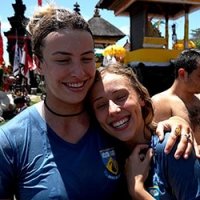 Tuesday, 30 January 2018
Researchers in the University of Western Australia's Faculty of Arts, Business, Law and Education (FABLE) have successfully secured funding from the New Columbo Plan Mobility Program to enable students to study in the Indo-Pacific region during 2018.
Australian-Japanese-German Traditions and Practices
Professor Alexandra Ludewig and Dr Dale Adams will take second and third year and honours students on a two-week intensive study tour to Japan. Using the concept of Vergangenheitsbewältigung (dealing with the past), students will study contemporary Japanese culture in English and German. The unit will particularly focus on the legacy of World War II and military history with students assessed on their intercultural understanding and their German language acquisition.
While in country, students will hear from experts from Chuo University, Waseda University, Hosei University and the Hiroshima Peace Institute. The program was successful in securing multi-year funding so it can run annually from 2018-2020.
International Studio for Arts and Culture
Paul Trinidad has secured funding to support students travelling to Bali to participate in the Bali Studio VISA2270. The unit provides students with a unique opportunity to engage with language, history, and contemporary and traditional visual art practices and techniques. Students are immersed into several aspects of the rich Indigenous culture. On arrival they receive a blessing and Welcome to Country which is affirmed by the Denpasar Heritage Tourism Committee, supporters of the program. The course is taught in open studios and field trips to places of cultural significance such as Banjar Sangging, a small village where Kamasan art has been been maintained as a cultural practice for over 300 years. Students record and process the cultural program using drawing, painting, digital photography and graphic processes.
The program also supports the John Fawcett Foundation with students assisting with screening for eye disease and providing spectacles and cataract surgery for underprivileged villagers.
While this is the first time the unit has been supported by New Colombo Plan funding, it has been offered since 2013 with almost 200 students participating to date.
Cities for the Age of Global Warning
Professor Simon Anderson has partnered with leading eco-architecture firm WOHA to enable students to undertake design studies in Singapore. In the project's first iteration, twenty undergraduate Architecture students will have the opportunity to study Asian mega cities and the creation of dense, vertical yet sociable and sustainable urban environments.
The program partner WOHA, co-founded by UWA Design alumnus and Adjunct Professor Richard Hassell , is an award-winning international architecture practice based in Singapore that works on projects across Southeast Asia, China, and Australia. WOHA have agreed to sponsor the project and provide tuition support, regional project intelligence, and access to facilities at no charge.
Tags
Groups

Faculty of Arts, Business, Law and Education