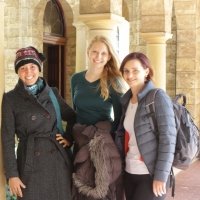 Monday, 15 January 2018
An environmental economics researcher, a nanotechnology scientist developing new ways to fight cancer and a neuropsychologist from The University of Western Australia are among 80 women from 13 countries around the world selected to take part in the trip of a lifetime to Antarctica.
Veronique Florec, a research associate with UWA's School of Agriculture and Environment, Rachel Zombor, a clinical neuropsychology practicum supervisor with UWA's School of Psychological Science and Jessica Kretzmann with UWA's School of Molecular Sciences have been selected to participate in Homeward Bound, a unique leadership program for women in science.
The initiative is an Australian-led 12-month leadership and strategy program for women who have a science background. Homeward Bound aims to build a global collaboration and empower women to redress the gender imbalance. It follows the 2016 inaugural program which was the start of a 10-year outreach to build a 1,000 strong global collaboration of women in science.
The program culminates in an expedition to Antarctica, where the study of climate change is used as an example of how women can make a pronounced difference in the world.  The 2016 expedition will be filmed by an Australian documentary team.
Ms Florec, of Wembley Downs, is currently leading a project that focuses on applying economic analysis to the management of natural hazards such as bushfires and floods, to help decision makers get better value for money from public investments in hazard mitigation.
"It can be quite hard to work out how to get the best value for money from mitigation investments so we're working to provide more information to help governments make a more informed decision," Ms Florec said.
Ms Zombor, of North Perth, supervises postgraduate neuropsychology trainees completing their internal placement at UWA. She also directs clinical, training and research programs of a specialist mental health service, the Neuroscience Unit at North Metropolitan Health Service Mental Health.
"Homeward Bound embodies many of my passions including gender equality, science, leadership, personal development and travel," she said.

Ms Kretzmann, of Bull Creek, has focused her research on developing new ways to deliver gene therapies for the treatment of breast cancers and said she was excited to be going to Antarctica where others had said there was amazing beauty and complete peacefulness.

"I've always been passionate about science and science outreach. I want to be the best mentor and leader I can for science students so to undergo this personal development program in the Antarctica will be amazing," she said.

The Homeward Bound program participants will travel to Antarctica in the first week of February.
Media references
Jess Reid (UWA Media and PR Advisor)(+61 8) 6488 6876
Tags
Channels

Science — Teaching and Learning — University News

Groups

Faculty of Health and Medical Sciences — Science Matters