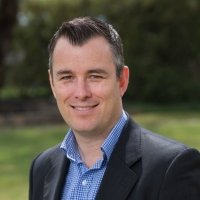 Tuesday, 12 December 2017
Dr Peter Dean has been appointed the next Pro Vice-Chancellor (Education) of The University of Western Australia. He was selected from a competitive field of applicants after an international search and will take up the position in February 2018.
Dr Dean is currently a Senior Fellow at the Strategic and Defence Studies Centre in the College of Asia and the Pacific at the Australian National University, where he has been for the past six years.  A strategic studies scholar specialising in the Australian defence studies and the ANZUS Alliance, he is the recipient of a Fulbright Fellowship and an Australian Endeavour Research Fellowship.
Prior to this he worked on the Sydney campus of the University of Notre Dame Australia for seven years. He has held university education leadership positions at the department, school, faculty and campus levels. He is a Senior Fellow of the Higher Education Academy and is a recipient of a Citation for Outstanding Contributions to Student Learning in the Australian Learning and Teaching Council's Awards for University Teaching.
Dr Dean has extensive experience in undergraduate and postgraduate teaching, working with international students and in executive education. He brings to UWA a strong focus on student centred learning as well as curriculum design and development.
Tags
Groups

UWA Forward