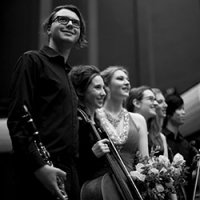 Monday, 4 December 2017
The University's School of Music is being renamed the Conservatorium of Music in recognition of its outstanding contribution to music.
Ranked number one in Western Australia and number 33 worldwide for the study of music, the Conservatorium is renowned for its ability to produce high-achieving graduates with international reach, while at the same time being actively involved in grassroots community outreach and engagement.
Professor Alan Lourens, Head of Music at UWA, said the new name reflected UWA's musical excellence.
"UWA Music has been producing musicians of the highest quality for a long time, but it is only recently that this has been reflected in the university world rankings," he said.
"With Music at UWA now in the top 50 in the world for performing arts, and number two in Australia, it is entirely appropriate that we have a name that reflects our national and international standing."
The renaming comes at the end of a year of significant achievements for staff, students, and alumni at the Conservatorium.
In 2017, the Conservatorium held over 250 concerts and events, including Main/Centre Stage concerts at Perth Concert Hall, Government House, St Patrick's Basilica, and Fremantle Arts Centre.
In addition to the free recitals, workshops and seminars held every week on UWA's Crawley campus, staff and students taught 500 children as part of the Junior Music School, toured the eastern states and the south of WA, and ran school outreach and activities including WACE bootcamps and workshops.
There were also a significant range of staff and alumni achievements this year, including:
Louise Devenish, whose album and associated shows received excellent reviews and led to her becoming a Churchill Fellow
Ashley Smith, who performed across Australia, South Korea, China and the USA
Elise Reitze, who won a WAM award and was signed to Gotye's label, Spirit Level
Iain Grandage, who won another Helpmann Award and was awarded an honorary UWA doctorate
Chris Tonkin, who had compositions premiered in two continents
James Ledger, who was appointed as both the 2018 Australian String Quartet Artist in Residence, and as ongoing Artistic Director of the WASO Composition project
Students joining the Conservatorium in 2018 can expect new course options, including electronic music and general music studies majors.
The Conservatorium's agreement with West Australian Opera will also continue. This year students have enjoyed access to WA Opera's rehearsals, performed with the company in front of 20,000 people at Opera in the Park, and participated in masterclasses with opera singers and directors such as Richard Mills, Taryn Fiebig, Stuart Maunder, Aldo Di Toro, and Nicole Dorigo. 2018 will see the agreement grown further with the launch of a dedicated master's program.
In addition, a new agreement with the City of Perth will enhance the Conservatorium's existing community engagement program, with classes for children, community singing classes, performances and public lectures in Perth's CBD.
Media references
David Stacey (UWA Media Manager) (+61 8) 6488 3229 / (+61 4) 32 637 716
Tags
Channels

Arts and Culture

Groups

Faculty of Arts, Business, Law and Education